new adventures on a non-linear path
By  Salamatu Mohammed    |    November 16, 2021
Discovering the Policy Space
Prior to submitting my application to be a part of the second cohort of Youth Policy-Makers Hub (YPH), like many people during this pandemic, I was knee-deep in the job search pool and one year into the uncertainty that is post-grad life. I was desperately seeking many things at that time: a sense of guidance, inspiration, community, and, above all else, employment. I was doing everything within my power to build upon my experiences and present myself as the best candidate for the jobs I was applying to. I had reached the point where I was no longer willing to intern as it was not providing me with the job security I was looking for and still not putting me on a strong career path. 
There was a particular job that I was turned down from where I scheduled a feedback call to find out what went wrong during the interview and ways to improve, and it was recommended that I apply for the YPH to fine-tune skills that could take me further in my job search. So, I applied to the YPH knowing that I had no real experience within the policy sphere and did not think I would be accepted. In fact, the strong possibility of not being accepted made it easier for me to apply because at least I could tell myself that I tried. 
To say I was shocked after receiving the welcome email was an understatement. It reminded me that I had to further develop my thoughts about what I wanted to gain as a member of the YPH. I was able to narrow it down to three core things I wanted to get at the end of my time with the YPH: a better understanding of what the policy space looked like; to take every opportunity to network and find some sort of direction as I navigated the job market; and see if there was career potential in the policy space for me. Note that none of this involved applying for grants or planning events for youth.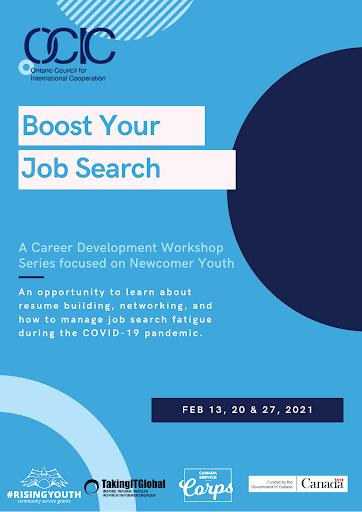 Opportunities in the Policy Space
After introductions to the members, and later on allies, I was amazed at the wonderful people in this cohort. Everyone was on their own journey but it was wonderful to see how it all came down to wanting a more equitable world for all. The group was so supportive and encouraging – our meetings quickly became something I looked forward to just to learn something new and hear about what everyone else was up to. 
Another great thing about the group was the various collaborations that occurred within it. When TakingITGlobal's  #RisingYouth grant was first introduced to us, I was thinking about what I could use the grant for. That was how a shared experience I had with another member about the difficulties of looking for work during the pandemic led to a few of us planning to help more racialized youth with the skills and tools needed to navigate the current job market. We planned a wonderful three series event for this called "Boost Your Job Search". We decided to apply for a $1,000 grant to help racialized youth craft better resumes, learn applicable ways to look after their mental health while seeking employment, and how to network within the development and policy space.
Unfortunately, we did not get the full funding amount and had to significantly downsize. We shared our ideas and dilemmas with the other members and got recommended to an incredible career coach who agreed to delivery a workshop with a little honorarium; found two development and policy focused women of colour to share tips on networking; and an inspirational young professional explaining the importance of self-care during job search journey. It was great interacting with other youth over a shared experience, sharing tips and planning for success. A giant thank you to Aamina Masood, Harshini Ramesh, Andrea Rodriguez,  and Cisi Zhang for being the best team to work with for this – such committed and multi-talented people!

With a lot of the discussion we were having in the group about representation and my experiences around that theme, I kept thinking about my experiences as a Black Muslim woman and I wanted to address the gap I saw with the lack of spaces and events for Black Muslim women. Due to the pandemic, I was attending a lot of Muslim women events online on various topics. Yet, I still felt like something was missing from the conversation, as many did not discuss the unique challenges that came from existing at the intersection of being Black, being Muslim, and being a woman. I came across platforms for Black Muslim women in other parts of the world, but not many in Canada. 
I was hesitant to actualize this idea because I hadn't organized anything since graduating university and, rather than creating something new, I wanted to add to something that already existed. Thus, I reached out OCIC's Community Engagement and Gender Equality Specialist, Aniqah Zowmi, and had a meeting with her to hash out some of my ideas. After my meeting with Aniqah, I felt encouraged to do this and got some names of organizations that already existed that I could reach out to for a collaboration. That is how I essentially 'shot my shot' with the Black Muslim Initative (BMI) and pitched my idea. With even more encouragement and guidance from the phenomenal Dr. Siham Rayale, I applied for the grant.
I wanted to create an online space for Black Muslim women to discuss what it felt like being visibly Black, Muslim, and women navigating the social justice space and what we experienced in different spaces as a result of our outward identities. All this while, I was still apprehensive about doing this, questioning if the space was really needed, if it was just all in my head, and doubting if I had what it took to make this event impactful, even with all the support I was receiving from YPH, BMI, and TakingITGlobal.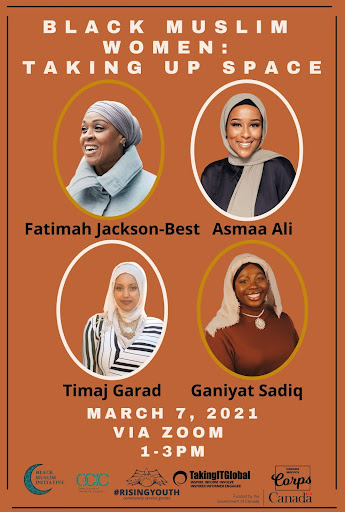 When we began promoting the event, the feedback we received was incredible. I was greatly surprised by the comments from everyone and, most especially, from Black Muslim women about how necessary spaces like these were. If I could share the chat box from the event here I would, just so more people could see the beautiful words shared. Instead, I will share the Wordcloud generation of the discussion. We discussed many things, from overcoming, finding community, and looking to the future. The whole process introduced me to a lot of powerful Black Muslim women across Canada: these women were unapologetic, stood firm in their truth, are healing communities, and demanding justice in various ways.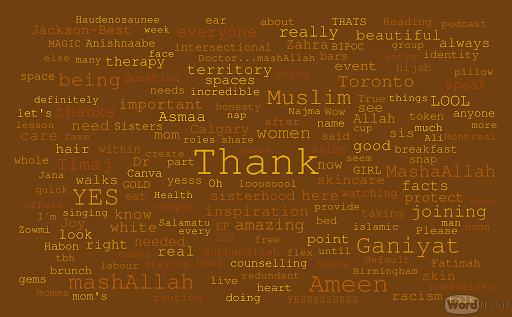 Lessons Learned in the Policy Space
My biggest takeaway from that event was how similar yet different the experiences of Black Muslim women were. In the planning process, I became aware of the needs of different groups of Black Muslim women, in hindsight something that I felt was missing –  perhaps this also has to do with my lack of awareness – was the voices of West and South African, francophone, and Caribbean women. I will forever be grateful to one of the speakers for pointing this out because as someone who did not feel well represented within the Muslim community, I did not want to plan an event that fell short in terms of representation. I can only hope now that with any future event that I help organize, I am able to do more research and better reflect the intended audience. 
It was also beautiful to see an array of Black Muslim women from different parts of Canada gather and quickly form a supportive unit and find comfort in each other's stories. Attendees shared the struggle within the Muslim community, where poeple often think Black people are converts as opposed to coming from a long lineage of Muslims. 
A final lesson was that no matter how scary an idea may seem, go for it! You definitely do not have to do it alone, you can tap into structures that already exist, and be open minded: the possibilities are endless.
A new policy enthusiast?
In the end, I partially achieved each of the three goals I had set for myself to accomplish by the end of my time with the YPH. I am now aware of the different things that one can do within the policy space, from working directly with politicians to activist work. I have a better understanding of the policy sector – just don't ask me to define it! With this experience and where I am in life right now, I do not think that the policy space is a direction I will be actively pursuing. I did get to realize my final goal and see that I still do not see a clear career path for myself within the sector. It may be that I still have a very political view of the space and do not see myself engaging with it politically at a higher level. But I am still interested in exploring community connections to policy, how marginalized communities are directly affected, how they increase awareness to affect change and community organizing. 
I will still be exploring this sector and hopefully contributing to the amazing work that Members and Allies of the Hub are producing. I gained so many more things outside of my goal, like the skills to plan events, rediscovering passions, finding communities that I can tap into, and pushing my limits. I have learned so much from the incredible team at OCIC, the YPH, and look forward to discovering more ways to support young people and amplifying our voices.