TAPESTRY 2030 TRANSCRIPT: EPISODE 7 – HAITIAN WOMEN IN THE LEAD
TAPESTY 2030


EPISODE 7: HAITIAN WOMEN IN THE LEAD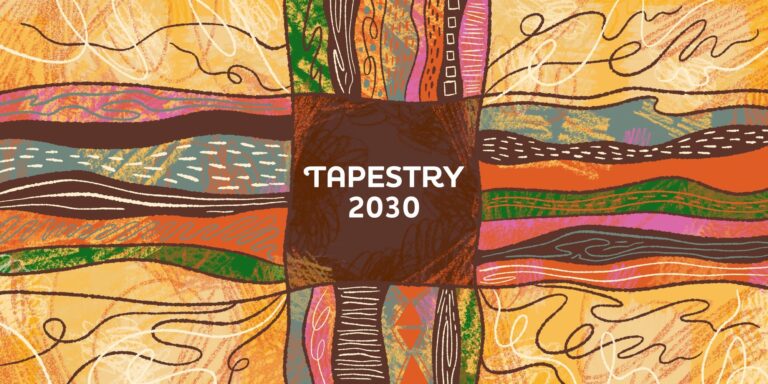 Episode 7: Haitian Women in the Lead
TAPESTY 2030 TRANSCRIPT: EPISODE 7
Safa (intro): You are listening to the Ontario Council for International Cooperation's 'Tapestry 2030' podcast series, focused on the future of international cooperation and global solidarity, and the partnerships needed for gender transformative, sustainable development.
My name is Safa, and I'm your host. 
In this series I'll be in conversation with diverse development actors and leaders from across Ontario and around the world, learning how they are working together to address some of the most pressing sustainable development challenges of our time.
You'll hear stories of partnership; approaches to 'Just Recovery' in the context of the COVID-19 pandemic; and insights on ways you can make a difference in our collective work to 'leave no one behind'. 
Bénicie: Lidèchip fanm enpòtan pou mwen paske fanm se manman lavi a. Fanm, lè fanm ap òganize, fanm pap gaspiye. Fanm ap chèche sa ki bon pouke yo reyalize pou sosyete-a li menm kapab fè lavan. Lè se fanm ki ap reflechi, lè se fanm ki ap deside, bagay yo ale pi byen ke gason yo.
English Translation: Women's leadership is important to me because women are mothers of  life. Women are less corrupted than men. When women decide for the community, they do great things, they do the right things. So it's better to have women leadership.
Elida: Lidèchip fanm enpòtan pou mwen paske fanm se manman limanite. Lidèchip fanm enpòtan pou mwen paske san fanm lavi-a pa gen sans.
English translation: Women's Leadership is important to me because women are the mother of humanity. Without women, life doesn't have any sense.
Renaud: Women's leadership is important to me because with women, we will have a better world, a fair world where everyone has a chance,  where things are just nice – the same as women are beautiful, their leadership could lead the world to like a beauty.
Heather: Women's leadership is important to me, because I believe that women need to be in the driver's seat of development. Women have historically been left out of the conversation at the same time as it's their ideas and their opinions that are so often best for the family. And so I think this is something that's changing and the impact of more women in leadership is going to be huge.
Safa: Today we are in conversation with Rayjon Share Care Canada, Rayjon Share Care Haiti and their partner, the Haitian Women's Federation of the Haut de St. Marc region. One of the projects that they are working on together is the establishment of a Breadfruit Processing Factory and Breadfruit Tree Nursery in the community.
Heather: My name is Heather Smith. I am the Executive Director for Rayjon Share Care in Canada. In my role I have the pleasure and the honor of connecting with and liaising with our partner Haitian and Dominican leaders – including Bénicie, Elida, and Renaud that are here with us today, as well as the other amazing members of the Haitian Women's Federation. Part of my job is providing sort of a communication link between our board and our volunteers in Canada and our partners on the ground in Haiti and the DR. I've been in this role for about five years. I live in Sarnia in southwestern Ontario, and up until COVID, was able to travel at regular intervals to visit Haiti.
Renaud: My name is Renaud Thomas. I'm an agronomist and a permaculture designer. I've been working as the Community Coordinator of Rayjon Share Care Haiti for three years, and I developed the partnership with the Women's Federation about two years and a half ago. My work concentrates mostly in St Marc, a municipality of Artibonite, situated 90 kilometres north of Port au Prince.
Bénicie: Mwen se Pierre Bénicie Estimé, enfimyè responsab sant sante Sen-Loran de Bab, manm Konsèy Administrasyon katriyèm seksyon Sen-Mak, depatman Atibonit, Ayiti.
English translation: My name is Bénicie Pierre, I am the CASEC [Conseil d'Administration de la Section Communale] in the fourth section of St Marc, a municipality of Artibonite. I am also a nurse.
Elida: Mwen se madam Elida Jeanty. Mwen se lidè devlòpman kominotè. Map travay nan Rayjon Share Care Haiti. 
English translation: My name is Elida Jeanty, I am the Officer of Development, and I work with Rayjon Share Care Haiti, and I'm a member of the Association of Gilbert [women's association in the village of Gilbert]. 
Heather: So Rayjon has a vision to see a world in which people have an equal opportunity to thrive. For us that means a world where people are empowered, independent and self sufficient. And so we work toward making that vision a reality through our mission of supporting our partners in Haiti and the Dominican Republic, basically to enhance their well being and their capacity. And we do that through supporting grassroots community development initiatives. So Rayjon was founded in 1986. And the relationship with the Haitian Women's Federation was one of the first real partnerships that was built between our Canadian volunteers and the communities of the Haut de St. Marc region in Haiti. At that time, Haitian women were gathering informally. And they would meet along with two Canadian employees of Rayjon that were living in Haiti, and they would get together and talk about their common interests. Over a period of about two or three years, they began to meet because they wanted to meet and they found there was this energy and synergy in coming together, they had strength in numbers. So in the early 90s, they wanted to turn that into action – and they approached the Canadian partners and asked if we'd be able to teach them to vaccinate their children. That's where it really started. So Rayjon was thrilled to be part of supporting that initiative. And quickly what happened was that hundreds of women were trained on how to organize their own vaccination posts. And that whole region is actually now free of measles because of their efforts. And so they just went from strength to strength to strength. In the early 90s, there was a new Haitian woman who took over leadership, and they established more formal community groups. And they began the process of becoming the first formalized Women's Federation in all of Haiti. So our partnership, you know, really had this beautiful beginning. I was just speaking this week to Rayjon's co-founder, Maggy Barnfield. And she shared with me that back in those days, Maggy noticed on her visits to Haiti, that it was the women who were doing everything, you know, they were caretakers, they were raising their children, they were putting food on the table, taking care of the home, trying to build up their communities. And she saw this resilience that they carried on – and every so often, the women's groups would have a gathering where the women's groups from each village would come. They would create a makeshift stage out of rocks and mud, and each women's group from the different village would put forth a representative who would get up and talk about what was happening in their zone, sometimes they would sing, they would share a meal on an open charcoal fire, the ladies were not nervous in each other's company, they had things to tell one another and ideas to share. But at one meeting in particular, and this took place way at the top of a mountain – and I've done that walk, it's a very difficult steep climb under the hot sun. But all the women's groups were gathered under a big Mapou tree near the stage, when all of a sudden they could hear this far off singing getting closer and closer, the voices were gaining in power. And eventually it was another women's group who had a little bit longer journey to arrive. They were singing all the way – carrying their shoes on the rocky terrain, and their song was: women are not garbage. Maggy shared that story just as a real powerful memory of what those first days of the Women's Federation were like, and that message that the women have continued to sing and to share with us as their Canadian partners. That's kind of the beginning of that partnership. And then in the last probably three to five years I would say it's just really been strengthened as the women have grown in leadership and capacity and just have gone from one success to another.
Renaud: St. Marc is a municipality of 250,000 inhabitants, and over 550 square kilometers. The city is located between the Gulf La Gonave in the south and the beautiful mountains and the suburbs in the north side. The city is located close to the sea. There is a nice park right in front of the custom office where shipments arrive by the sea every day. Beside the beautiful city, there are also vulnerable people who live in the outskirts, where parents can not afford to pay for school for their children – where most farmers are illiterate and live from the traditional agriculture, harmful to the environment. When you look at the mountain where those people live, you see a beautiful landscape with fruit trees like breadfruit, coconut trees, avocado trees, mango, banana, sugarcane, etc. And on the mountain, they are mostly farming peanuts, sweet potato, and cassava. RSCH is working in the mountains where people are illiterate and poor. Often, men leave the area to go to the Dominican Republic to look for jobs. We work mostly with women. 
Rayjon and the Women's Federation have a long story. The partnership involves three important programs: a loan program, a literacy program and a community development program. In the community development program, in this category we have the Breadfruit Processing Factory and a Tree Nursery. 
The Breadfruit Processing Project envisions to make it more profitable for farmers in St Marc and create job opportunities for women. The ultimate goal of the Breadfruit initiative is to capitalize on breadfruit, to take the women of St Marc to financial independence. The breadfruit tree is one of the most abundant trees in St Marc. At the current time, the crops are wasting because a mature breadfruit cannot stay longer than two days. Therefore, they are flooding the market – vendors come from Port au Prince to buy them for a cheap price. Breadfruit is gluten free and has a lot of traditional use in Haiti, it has many medicinal properties. It is good for people who have a problem with blood pressure, diabetes, broken bones, anemia – it is also used against tumors, sprains and bruises. The project involves seven women's associations as recipients, Rayjon Share Care as financial supporters, Trees that Feed Foundation as logistical supporter, and our other partners in the breadfruit business. 
The project involves community engagement also. The Federation is the owner of the project. The women define the policies in the factory. They manage employees, they manage stock, manage accountability in the enterprise, and organize cleaning  the building day to day. The women are responsible for reporting, making decisions and discussing with partners about what needs to be addressed. The farmers are the one who supply the factory with breadfruit. They will plant more breadfruit trees in the area, which will contribute to reducing the greenhouse gas emissions and to down/capture this harmful gas into the soil. The project will have positive impact on the climate change. The Federation will be able to offer economic opportunities to the women by increasing their capacity for financial independence, which fits with the mission of the Federation. And the farmers will be able to set up cooperatives to work with the women, to fix the fair price for breadfruit. It is in the interest of the farmers and the Women's Federation to give value to breadfruit and breadfruit planting. Existing cooperatives want to partner with the Federation by incorporating breadfruit planting in their programs. One of the activities for the partnership will be a tree nursery to grow breadfruit saplings. People who have bakeries will buy flour with low price – which will allow them to sell breads, cake and other products with a lower price as well. The community will be actively participating in tree planting, economic activity, food security and capacity development. The women's associations support the construction of the factory by providing local supply, like rocks, sand and all things that are available in the community. I think it is one of the best projects I have ever been involved in, because it's gonna help the women to break a stereotype – like in Haiti, they respect men more than women. In this project, I'm really proud of it because that's women's leadership. I'm really excited about this project.
Elida: Nou te motive medam yo, pou nou te met tèt nou ansanm pou-n te chwazi yon pwojè nou te wè kap bon pou kominote nou-an paske nou te wè nou gen anpil pwodwi kap gaspiye. Nou te met tèt nou ansanm pou-n chwazi transfòme lam an farin pou kapab ede kominote nou-an. 
English translation: The project comes from the women and they put heads together to find a good project that would be good for their community. And they resolved the problem of wasting crops in the community.
Bénicie: Pwojè-a vrèman enpòtan nan lokalite-a paske nòmalman, nou fè anpil lam nan zòn nan e ke lè nou gen pwojè sa li kòmanse ap mache gen anpil nan medam yo ki pral jwenn aktivite pa rapò avèk pwojè a pou yo fè pou yo ka ede fanmi yo. Pou yo kapab rantre lajan. Lokalite a pral benefisye; konsa moun yo pral wè plis enpòtans lam veritab yo genyen lakay yo a genyen.
English translation: I decided to join the project because there are a lot of breadfruit trees in the community and with the project, the farmers will earn more profits with the product they have in their gardens. In that way, the women will have more respect in the community, because we're gonna be valuable to the community.
Heather: When Renaud was first explaining this initiative, this idea to us at Rayjon – it was different than anything we had considered before. But his passion was very evident. So I know he mentioned that he's a professionally trained agronomist – he hasn't said yet that he actually did some specialty training in the harvesting of breadfruit in particular. He traveled to Jamaica with Trees That Feed Foundation to learn those skills. And so he was able to really give us the lowdown on breadfruit, and why it's a special plant, and how it can really be something that offers a huge yield. But then, as he was talking about how breadfruit currently it grows there, but they're wasting on the ground, because people don't always know what to do with it, how to use them, how to prepare them. And so this initiative is really important because it's going to help the women really move up the value chain. So currently, most families in that region are relying on small scale agriculture to put food on the table. And a lot of those products, you know, they're quick sale or the market might be flooded. And breadfruit is a little bit different, because it can be dried and stored, and ground into flour, which is going to last so much longer – making it something they can sell all year round. And with the tree nursery, it's something that can be sustainable. Just as far as context, I think it's important to know that this region also relies heavily on the production of charcoal. Of course, that's something that's very bad for the environment and has led to a lot of deforestation. So the idea of planting these trees that would have a huge yield that could be harvested and dried and stored and processed was really exciting for that reason. And then on top of that, you were also meeting some larger scale community goals – the women, all the associations, I mean, these are strong and intelligent women who have a lot of ideas for how to improve their communities. And each zone will have a project that it's interested in. But this particular project was something that all of the associations agreed would meet community needs. And I think during this time of national and global crisis – we've got the coronavirus pandemic happening, there is widespread political unrest going on in Haiti, there is gang violence, there is food insecurity, and all of these issues. This project really, you know, gave something that was a bit of a firm foundation to build on when they don't have assistance coming from the Haitian government. The community had to get together, as Hatian say, they put their heads together and figured out what they could do to become that self-sufficient community that they dreamed up. So this project was exciting because it met so many of those points. The stage of the Breadfruit Project that we're at right now, just in the last month, the building that's going to house the mills and the processing factory was just put up like in three days, this all happened and the community got together and they completed the building, which was really exciting. But one of the things Renaud said to me about that was that the construction of that building, you know, broadcast loud and clear to the community that the Women's Federation owns that land that the Women's Federation had this project about to start – that that act of announcement and just publicly everyone could see that they were the land owners really amplified their voice. It brought a lot of respect to them. 
Elida: Kominote a kontan anpil lè yo te gade yo te wè òganizasyon yo te mete tèt ansanm pou y-achte teren sa a, yo te kontan anpil. Lè yo vin gade yo wè nou kòmanse konstwi kay, sa te fè yo anpil plezi kote ke yo te kanpe ap tann pou yo wè kilè moulen sa li-menm li kapab rive kòmanse moulen diri, kòmanse moulen mayi. Tout moun kanpe sou yon bit pye pou yo ret tann pwojè moulen-an, moulen diri-a. Kounye-a nou di yo pwojè moulen lam nan dèyè, kounya moun yo di : Oh… Sa tap fè anpil plezi! Paske nou gen anpil lam kap gaspiye anndan seksyon an. Moun yo kontan anpil anpil kont pwojè sa kap vini pou ede yo ansanm avèk pwodwi kap gaspiye nan katriyèm seksyon SenMak.
English translation: When people were aware that we bought the land and the women just put heads together to organize fundraising – they were happy. And when they saw the nice building, that was even more interesting to them. and they approached the women to say: okay, we are happy for the mills, so when it's gonna start working? And they explained the project, they said okay, that's just the mills part, for rice and corn – but the mills for breadfruit will come later. They say, oh man, that's really interesting project – they can't wait to see the establishment of the Breadfruit Factory, that's gonna help them to, you know, to have money from the breadfruit that are just wasting in the valley.
Safa: When the coronavirus pandemic hit Haiti, both partners and the women leaders in St Marc had to adapt their timeline for the breadfruit project and respond to the immediate needs of the community. 
Heather: I think the first emotion that we all felt when the pandemic hit was fear. We were starting to see the suffering in countries that have really well equipped healthcare systems. We saw that very early on. And of course, that made us afraid what was going to happen to our partners – in Haiti in particular, especially in the rural areas where people don't have great access to health care. It's also a highly populated area, and very difficult for people to socially distance. So how are people going to handle it there? So we were certainly very afraid. And then, of course, programs had to come to a temporary halt, like in much of the world. And then we were wondering, how are we going to continue with this exciting new idea of breadfruit in the middle of this pandemic? The women, they rose to the challenge, they organized themselves, they right away implemented some community wide healthcare initiatives. Bénicie, as a nurse at the local clinic in her village, organized some training to teach people proper hand washing and how to prevent the spread of COVID. So they just got busy and got it done. So every week I talk with Renaud on the phone and I get an update about what's happening locally. what's the real situation like on the ground in Haiti, where you're at. And he would give me an update about how coronavirus was affecting people. But each week that we chatted, I was really struck just how the difference in approach to COVID in Haiti and Canada is so great. It's just a different way of viewing the crisis overall. And we really began to see that as serious as the pandemic was, and as much fear, you know, surrounds the whole issue of coronavirus and what that illness might mean – it did not seem to be the biggest fear that people had in the St Marc area. And so you know, when a family is faced with putting food on the table for today, or worrying about preventing an illness tomorrow, it's that food on the table today that became the priority. And the pandemic caused more food insecurity, right? The cost of basic necessities skyrocketed, it led to increased violence in the region, political instability. And so it just makes day to day, everyday life harder. And it became very clear that to address that it wasn't just about preventing COVID or treating COVID when it did happen. There had to be something that addressed those underlying problems of food insecurity and just ability to provide for the family. And so in that sense, I would say that we actually saw renewed energy in going forward with the initiative because in the middle of this pandemic, they were talking and asking themselves questions about how are we going to deal with the food crisis? How are we going to provide for our families? And that became the priority.
Bénicie: Tout moun nan zòn kotem ye yo te enkyè, yo te pè pou maladi sa pa rive pran yo. Paske lè yap tande jan maladi a ap fè ravaj nan lòt peyi ki gen gran lopital, kote yo kapab jwenn swen, yo kapab jwenn tout yon seri de bagay ki pou ede yo. Epi moun ap mouri, enben moun nan lokalite a te pè anpil, pou maladi a pa rive pran yo. Yo tap kalkile nan tèt yo si maladi sa ta rive pran yo kisa ki pral pase yo! Paske, yo pa gen lopital ase pou yo jwenn swen. Malgre kote ki gen gwo lopital, peyi Lachin, Litali, lòt peyi yo; yo tande jan moun ap mouri! Enben, sa te rann yo te pè anpil.
English translation: We were very afraid when we heard about the pandemic, because we don't have appropriate technologies to deal with the pandemic. When we heard what's happened in the developed countries like China, Spain, in other developed countries, so we pray God to protect us, because prayer was the only refuge we have at this time. So this is why we discussed amongst women what kind of initiating we could take. We decided to go to the hospital of St Nicola, we discussed with the board, they organized training for some of the women and then the women just go to their village to teach people how to prevent the pandemic. And they work also RCH to have some supply, some medication and equipment to organize the campaign, the awareness to prevent the pandemic and this is how we didn't have a lot of cases.
Renaud: When the pandemic arrived, Rayjon in Haiti, the first thing we just decided to stay open to our partners. Open to the Women's Federation. We think it was important to share information about the pandemic, because there was a lot of stories about what it is, which is fake news. So in that sense, we worked with the Women's Federation to organize awareness, to tell people the truth. So we asked the Federation, we tried to be helpful to the pregnant women, to the kids. We tried to provide appropriate care for them. So we communicate with the women, we share data, statistics. And also we worked with different institutions, like the hospital of St Nicola, ____ and the Ministry of Health. So we try all kinds of strategies, as a way to protect people in the villages. And I think the work we did was good. And we could see the result of it. 
Safa: As Renaud mentioned earlier, Rayjon Share Care mostly works with women in St Marc – women who were on the front line of responding to the impacts of the coronavirus in their communities. 
Bénicie: Se sak fè lè-n te tande sa, nou tap chèche mwayen pou nou kapab fè prevansyon ak lokalite nou pouke moun yo, yo menm, pou maladi-a, lèl rive nan lokalite-a pou yo pa rive pran maladi a. Se sak fè nou gen yon ekip medam nan federasyon nou, nou te fè yo pran fòmasyon pa rapò avèk lopital Sen-Nikola ki nan vil la. Ki te gen fòmasyon li tap fè pou lidè, pwofesè lekòl, etsetera. Yo te pran fòmasyon jis pou yo-menm yo te kapab fè edikasyon ansanm avèk moun nan lokalite-a. Pou yo kapab konnen kòman pou yo fè pou maladi sa-a pa rive pran yo pou yo kapab fè prevansyon kont maladi-a. Se konsa sa te ye lè-n te tande maladi a tap frape. Vrèman, pandemi-an te bloke aktivite medam yo, aktivite tifi yo, kote lekòl te oblije vin kanpe. Sa te vin pèmèt tifi yo pat kapab al lekòl, gwoupman medam yo pat kapab reyini, pat kapab fè jan de rankont yo te konn fè. Piske, pa rapò avèk maladi-a, yo te mande pou yo pat reyini an foul. Yo te mande pouke tout moun respekte 1mèt50 de distans, tou sa. Pa kont, aktivite yo te vrèmam bloke, malgre tout efò ki te rive fèt kote nou te gen sipò RSCH pou nou te kapab distribiye kachne pou yo, kote ke lè y-ap fè deplasman pouke yo te itilize. Nou te ba yo savon, kloròks, likid pou yo te kapab lave men yo, tou sa.Men, sa te vrèman bloke aktivite yo paske yo pat kapab fè sa yo pito. Tifi yo pat kapab al lekòl, medam yo pat kapab fè sa yo te konn fè nan mache jan yo te konn fè komès yo. Piske, sa te mande pou tout moun te respekete prensip 1mèt50 sa te bloke vrèman aktivite yo nan espas la.
English translation: The pandemic has negative impact on the lives of girls and women. Firstly, the kids could not go into school. Because of that, the school couldn't finish with the program of the year because teachers and students stayed home. Also, the women couldn't meet to discuss about the problem. People who had a loan couldn't even reimburse the loan because they couldn't go to market to sell the product. Even though RCH helped us to have equipment and appropriate things to prevent the pandemic, the impact was negative into life of women in the communities.
Heather: Well, we know that women are adversely affected by situations of crisis and inequality all over the world. So certainly it was no different in Haiti, where often women are under educated and underemployed and quite frankly, they're often left out of the decision making process altogether. But the Women's Federation is really, I think through this crisis, addressing many of those barriers that women and girls do face and reinforcing the knowledge that they are the key to leading their communities out of poverty. So investing in their futures, taking charge of their own destinies – that was really important to us to make sure that throughout the crisis that their voices continued to be heard, and that they didn't lose all that progress that they worked so very hard for. One thing that comes to my mind, one of my very most special memories would be being in the room with these leaders of the Women's Federation as they sing their federation anthem. So they have this song that they start all of their meetings with -I'll attempt the creol here, but it means "women we are like reeds". And the song talks about how Iike reeds, you can cut it down, you can burn it right to the ground, but the rain is going to come and it will bloom again. And I think that's the experience that I saw them living through the pandemic, you know, even though this pandemic kind of knocked them off their feet and put a stop to activities temporarily, they just didn't let it end things. And they started preparing for that season of reblooming right away.
Safa: Here are Benicie and Elida singing part of the Hatian Women's Federation anthem that Heather was referring to. 
Anthem / Chan (Bénicie ak Elida): Nou se wozo, se wozo nou ye. Fanm o! Nou se wozo. Nou se wozo. Se wozo nou ye. Yo mèt taye nou, yo mèt derasinen rasin nou. Lè lapli-a tonbe na boujonnen. Yo mèt taye nou, yo mèt derasinen rasin nou. Lè lapli-a tonbe na boujonnen
Bénicie: Pandan pandemi-an, nou te vrèman kolabore. Mesye Renaud te kolabore ansanm avèk nou, sitou nan pati sante pouke nou te kapab sansibilize moun yo. Kote nou te mete machin avèk mizik, moun ak megafòn ki tap pase nan tout zòn yo, sansibilize moun yo. Sansibilize espesyalman medam yo, paske se yo menm ki kapab fè premye swen lakay yo. Answit de sa, nou te kolabore ansanm avèk mesye Renaud, nou te distribiye kachne bay moun ki nan sant de sante, tout moun an jeneral : chofè taksi, yo ki nan lari ki vrèman ekpoze avèk maladi-a pou yo te kapab fè prevansyon. Nou te distribiye kachne bay yo, tou sa. A la swit de sa, nou te genyen dispansè Sen-Loran de bab ki te gen yon travay ki te komanse, mesye Renaud te kolabore ansanm avèk nou, pwojè RSCH te ede nou agreye espas sant de sante sa pou nou kapab bay moun yo swen. Se tou sa nou te reyalize pandan moman pandemi sa.
English translation: During the pandemic, the first thing was cooperation. So we worked with different partners and different organization. But the most assistance come through RSCH. So after discussing and receiving training from the hospital, so RSCH provided us with a pick up truck where we put speakers, we register a voice, we walk all around the city, we tell the people, mostly women because you know they are the one who can really prevent them pandemic in their houses. So it was like a together work where all people do their part and at the end of it, it was a perfect organization where everyone just do the right thing.
Elida: Map ajoute sa marenn mwen pat di. Nou te aprann medam yo tou nan fòmasyon ki te fèt sou « pitab », avèk yon galon dlo yo met klò ladann epi moun nan tap sèlman mete pye-l sou yon bwa epi dlo a koule san-l pat manyen galon-an pou l te kapab lave men-l. Nou te aprann federasyon an sa, epi nou te aprann medam yo anndan òganizasyon yo fè sa. E nou te aprann yo tou avèk mesye Renaud, nou te aprann yo kote nou te distriiye savon ba yo avek klò. An plis, nou te aprann yo fè kachne ansanm ak yon sèvyèt epi avèk elastik si yo-menm, yo pat ankò achte kachne yo tap vann, yo potko gen kit ki distribiye bay medam yo, nou te aprann yo fè tou sa. Se konsa nou te pote kole avèk yo. Nou te pase mesaj anndan legliz, anndan kominote a pou fè tout moun konnen maladi-a se pa jwèt li ye. Pou tout moun te ka pran prekosyon ak sante yo, paske lasante se premye richès ke Bondye bay. Si yon moun pa gen lasante, li pakab fè anyen. Se konsa nou te kolabore avèk mesye Renaud, madam Benicie, pou te kapab sansibilize moun yo andedan kominote-a.
English translation: We developed local initiatives. Like we teach the women how to make a facemask, without just buying one. We taught them also how to wash their hands without touching the bucket or the recipient. We tell them the best technique they can use without a big expense, a way to prevent the pandemic. We went to the school, we went to the churches, we tell the people that health is the most important thing in life. Because we cannot do anything without the good health. In that way, we were in touch with most people in the population. And we think we did a wonderful job.
Renaud: The first thing we discovered with the pandemic is that the international cooperation is more effective than the Hatian government. So international cooperation would provide a more adequate and proper response to the expectations of the communities. This is why in the communities now people consider Rayjon like a member of the family, above all the poorest ones. So there is a perfect harmonization between the community and RCH, the relationship is just about trust and credibility. The approach that RSCH uses is unique because all the decisions are just made between RSCH and the community. There is no one part that just imposes everything – no, we just listen to the community, and we just make decision together. I think it's the perfect approach. And we use it. 
Heather: I think the importance of real grassroots local partnerships are really worthy of deeper reflection. And so much of international development often focuses on really big actors and you know, large scale government grants, big organizations. But I think one of the strengths of our activities together as partners is that we've learned it doesn't necessarily have to be a huge initiative, it doesn't have to involve millions and millions of dollars in investment or, you know, organizations that have a lot of infrastructure. Because at the grassroots level, you have this local leadership, and you have real investment of the community itself. So for us, I think the focus is really on the relationship building and development. And that has been where our accountability comes from. But through that we've got these really long standing relationships, we have good communication, we have clear channels of financial accountability, and all of that sort of thing. But there's also this piece of the voice of the local leadership in directing the whole initiative from start to finish. So I would say one of the things that we have learned and that's changed our approach is the need to listen and then to listen some more. We know that our ideas from the Canadian end and our hopes and our vision is never going to meet the needs of a community in Haiti, but their vision will, and they know exactly what needs to happen to address whatever issue it is that they're facing. So our role has been to be alongside as a partner, which is exciting. And we've been able to see some real results from just those grassroots sort of simpler approaches. I know that often the traditional, western style, RBM model is really focus so much on the results without maybe as much consideration going into the process that it takes to get there. I have seen under Renaud's leadership in particular, just how investment in that process is part of community development. So there's going to be setbacks. And we've seen little setbacks and things go wrong with any given initiative. But if we can take each of those setbacks and learn from it, see it as a growth opportunity, figure out what could we do different next time, then each time we have a setback, it in some way builds the capacity of our partners on the ground to be able to handle any future crises. So I would say we've seen that with the Women's Federation in dealing with any, any issue that they have, each time their leadership has grown stronger, and they're able to address any problems that arise faster because they've had that opportunity to learn through a difficult period. 
Safa: At the heart of their model of partnership is a respect for local leadership and ensuring community ownership at all levels.
Renaud: The message we want to share with the listeners is that international cooperation work better when the folks are involved in the decision making. People who live in the villages may be illiterate, but they have the secrets of the communities, they can show this strategy to be more effective, and to have positive impact into the lives of the vulnerable people. In Haiti especially, we see international organization with a huge amount of money, but was project fail. International organization with limited funds was project highly successful. We want donors to know that it is because of their donations to Rayjon we were able to support, to help the women and girls of many villages to emancipate from stereotypes that are causing their suffering. Rayjon is one of the best model of change we see in Haiti and the projects of Rayjon relieves the suffering of many in the country. The solidarity of Canadians can be at two levels. The first one is that they can donate to Rayjon. Once they donate to Rayjon, it's like they donate a sustainable initiative in Haiti. If they could visit Haiti, visit the project – when they see what we are doing, its going to have more impact on them than just saying the thing. We would really recommend all the organizations who work in Haiti to create room for Hatian women because there are capable people, but sometimes they are forgotten. Please continue support women's leadership.
Bénicie: Vrèman Ayiti se yon peyi ki bezwen èd. Èd yo, se yo menm ki kapab pèmèt nou menm an Ayiti nou kapab fè kèk bagay. Si se pat èd lòt peyi yo, nou patap ka reyalize anyen pa rapò avèk jan peyi nou ye. Pa gen travay, pa gen kiltive e mwayen pouke nou menm nou kapab fonksyone. Se èd lòt peyi ki vrèman ede nou-menm an Ayiti pou nou kapab reyalize kèk bagay ki nesesè, nan peyi nou. Se sak fè nou felisite anpil, nou remèsye anpil anpil anpil moun nan lòt peyi yo kap ede nou. Espesyalman, nou felisite, nou remèsye ekip RSCH la kap ede reyalize anpil bagay nan katriyèm seksyon. Nou kwè, kap kontinye ede nou. Nou di nou : pa dekouraje! kontinye ede nou! Paske, moun ki ap ede, se Bondye ki ap beni nou plis toujou pou nou kapab kontinye ede lòt moun. Nou remesye nou!
English translation: So we want to congratulate the community international, and people who specifically helping people in Haiti. In the context we are living in the country, we would have more problems if we didn't have those people to help us. This is why we think international cooperation is very important. We have a lot of problems in the community, we want to continue to work with women, to work with vulnerable people. But without you, we cannot do it. So we congratulate you. And we hope that you can continue to support the work of the women in the country.
Heather: The story that we're sharing alludes to the power of a local to global approach in fostering community development and global solidarity.  Rayjon is a small town, volunteer-based charity,  but we've been able to keep supporters here in Canada engaged for 35 years, and that all stems from the relationships, the real connection with our partners – based on mutual respect.  It's about moving forward together toward a shared vision in the global sphere. And this story speaks to the importance of partnership as foundational to any international development effort. We're just seeing how together we are able to accomplish so much more than we could alone. We have differences, but each of us brings strengths to the table and we're stronger together. I would hope that Canadians could really buy into the idea that locally they can have a global impact on whatever social justice issue it is that they're passionate about, that they can be somebody who stands in solidarity with our global family. So I would say that that can start by educating yourself. I hope that people are inspired to learn more about social justice and why it matters that women are at the center of development initiatives, to learn more about, you know, the history of Canadian colonialism and how that relates to the histories of other countries all over the world and the injustices that are faced. I hope that Canadians will use the information, use that education to become bridge builders, to be part of reconciliation efforts, to ask questions to make new friends, to start building partnerships. Learn and keep learning. Get involved with the local organization, participate in International Women's Day and think about how your actions here locally can have impact in the lives of somebody globally.
Elida: Nou ta renmen yo menm tou pou yo ta esplike nou kèk bagay nan òganizasyon fanm lakay yo. Kòman yo fonksyone?
English translation: Elida would like to learn from other organizations in Canada – how the function. If they can share stories with Rayjon , we would like to learn from their organization as well.
Bénicie: Kòm deja di kòlèg Elida, se vrè nou ta renmen konnen yo menm kòman yo fonksyone. E nou ta renmen tou, pou yo ta kapab pataje ansanm avèk nou fonksyonman pa yo. Nou ta toujou renmen mo ankourajman yo. Pou yo ede nou avèk mo ankourajman yo. Nòmalman, nou felisite ekip Kanada-a kap tande nou! Nou remesye tout ekip la pou bon jan kolaborasyon yo pote ansanm avèk nou. Men, nou toujou bezwen èd yo, kolaborasyon yo, pou nou kapab mache vè lavan.
English translation: The Canadian women help us a lot. We recognize that. But we would like to have even more collaboration with Canadian women. When we learn from their stories, that would help us to grow and do greater things in our communities.
Heather: I really love that Elida and Bénicie were talking about the importance of sharing our stories with one another as partners and how that can help each of us grow individually and as organizations. The things we learned from one another strengthen future efforts.
Renaud: I just want to say the women in St Marc are smart women, they have a clear vision for the future. They are well organized, I can say all good things about them. So they are really wonderful women. If the women don't express themselves, nobody would know what their feelings are, what their intention is, what their opinion about the world. So I just encourage you to continue to support women's leadership, to stay in touch with Haitians and connect them to all the people in the world. So we appreciate it. Thank you.
Safa (outro): To connect with Rayjon Share Care, you can visit their website https://rayjon.org/ , follow them on social media and feel free to send them a message of support. 
Thank you to all our wonderful guests for sharing their story with us today. Make sure to tune in to the next episode of the Tapestry 2030 podcast as we continue to share other stories from our OCIC membership community.
The Ontario Council for International Cooperation is an expanding community of members working for global social justice, human dignity and participation for all.  Join us! Visit https://ocic.on.ca/ to learn more.