TAPESTRY 2030 TRANSCRIPT: EPISODE 3 – CHAMPIONING EDUCATION IN KENYA
TAPESTY 2030


EPISODE 3: CHAMPIONING EDUCATION IN KENYA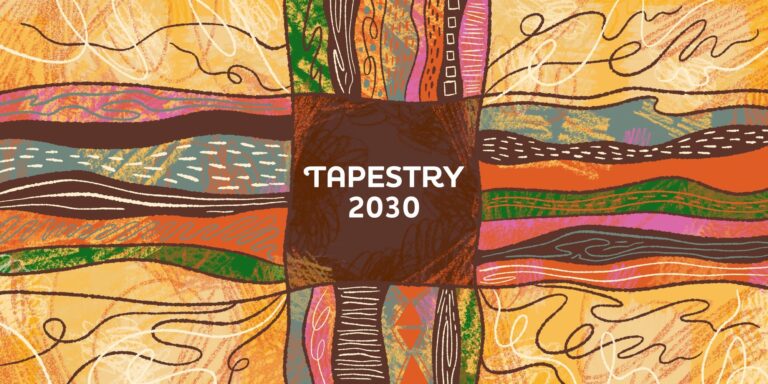 Episode 3: Championing Education in Kenya
TAPESTY 2030 TRANSCRIPT: EPISODE 3
Safa: You are listening to the Ontario Council for International Cooperation's 'Tapestry 2030' podcast series, focused on the future of international cooperation and global solidarity, and the partnerships needed for gender transformative, sustainable development.
My name is Safa, and I'm your host. 
In this series I'll be in conversation with diverse development actors and leaders from across Ontario and around the world, learning how they are working together to address some of the most pressing sustainable development challenges of our time.
You'll hear stories of partnership; approaches to 'Just Recovery' in the context of the COVID-19 pandemic; and insights on ways you can make a difference in our collective work to 'leave no one behind'. 
Titus: Community to me means  if one person wins, we all win. And we have to make sure that we celebrate these people that are winning.
Esther: Community, it's family. Because when you live in a community, those people who are next to you, they are your family. Whenever you have a problem, they're the ones who can step up to help you before your real brothers and sisters travel from up country to come and help you. So for me, I'll say community, it's family.
Jesse: For me, I'll say community is where I'm made of. 
Jecinta: Community for me means togetherness. So, I believe in change – united we can make a change.
Emmanuel: Community to me means unity, the urge to work in togetherness.
Victoria: Community to me means support and your community may be local, it might be your street, might be  your neighborhood, it might be your city, but it can also be global and across the world.
Safa: Today we are in conversation with the CANADA Mathare Education Trust, also referred to as CME Trust. CME Trust is a Canadian registered charity that provides educational scholarships and various educational programs and support for young people living in Mathare, the second largest informal settlement in Nairobi, Kenya. Joining us today are two of the co founders, one of the Kenyan field representatives, two of the post secondary scholars, who are also representatives of the Alumni Association and one current secondary school scholar.
Victoria: I'm Victoria Shepherd. I'm one of the co-founders of CME Trust, way back in 2006. I was also president for a number of years. And currently I'm the Program Director.
Titus: My name is Titus Kuria. I'm one of the cofounders and also a Kenya Field Representative in charge of communication.
Esther: My name is Esther Njenga. I'm one of the Kenya Field Representatives. I'm in charge of post secondary scholars and alumni.
Jesse: I'm Jesse Jacktone. I'm currently a beneficiary of CME Trust, and a post secondary scholar at Mt Kenya University, doing my bachelor's,
Jecinta: I'm Jecinta Akoth. I'm currently a CME Trust alumni. I'm also a student at St. Paul's University.
Emmanuel: I'm Emmanuel Angwenyi , a secondary scholar at CME Trust, currently I'm in Form 3. I'm 18 years old. I joined CME trust back in 2018.
Safa: The idea for establishing the CANADA Mathare Education Trust goes all the way back to 2005. When one of the co founders, Victoria, spent 10 months working in Nairobi.
Victoria: In 2005, I was selected to do an internship at the Nations Environment Program in Nairobi. I'm a marine biologist and a major science policy nerd. Anyway, it took me to Nairobi. And that then took me to this incredible community called Mathare, which is the second biggest informal settlement or slum in Nairobi. And I went because I quickly saw within three weeks of arriving at the UN that I was going to get trapped in the expat bubble if I didn't push myself to get out of it. So I started with some other interns volunteering once a week in the sari. And that's how I met Tito and Benedict and Charles – our two other co-founders. And we started working with students at Benedict School – and fast forward 10 months, and it was time for me to return to Canada. And so we went out for some beers, as many good conversations happen over beers and talked about how to maybe continue contributing from Canada. And really what was the biggest need within the community. And they identified access to secondary school as the biggest barrier to students being able to break out of the cycle of poverty in Mathare. We did talk about whether it should be a scholarship program for just girls or for boys and girls. And it might be counterintuitive to think of it this way, but when you walk around Mathare, what you see is a lot of women doing a lot of work. Women running many businesses, you see women doing childcare, you see women doing all sorts of things. And you also unfortunately see a lot of men who have to come to addiction, and there's no judgment there. But what we actually realized is that we need a lot of support for women to be able to continue to grow up as leaders and to engage in the workforce and to be able to break out of traditional gender roles and to be able to support their families. But we also need boys to grow up seeing male leaders who are also strong and successful and able to move beyond some of the traps that keep them in poverty in Mathare. And so we need to support both genders and we need to support the development of leaders in both boys and girls, men and women and so we purposely made the choice of having boys and girls participate in our program because of those really big needs within the community. This may not be intuitive when you look at Kenya, where you see a lot of men in a lot of roles of power and traditional gender roles that persist. But when you go under the surface and you look at the community in Mathare, you actually see a place where female leadership is very strong, thank goodness. But we also need to build up the boys too. 
Titus: Even if we focus our energy on education, we also need to look at other aspects like gender, which we think is very important. And it's nice when someone comes from a different neighborhood or different country, they observe this. And that's also the positive side of having a cross cultural team because you get to see things with a different lens and a different understanding. And that's what also makes us unique as an organization, learning from each other, from different experiences, and also how people in the organization look at different angles about different issues. So we continue to strive to have a better organization through these learnings as we continue to create opportunities for the young people in Kenya.
Safa: To better understand the importance of the services and programs that CME Trust provides in Mathare, it can be helpful to have a better sense of what the education system in Kenya is like and what Mathare as a community is like. 
Titus: The education in Kenya is very, very expensive. Generally, from primary to high school, and also to post secondary education – its very expensive. It's about 60,000, Kenya shillings, but most people cannot afford that. And especially where we come from Mathare, it's very difficult for parents to take their kids to high school. And you also have to pay for your transportation to and fro, you have to pay for other personal effects, the items that you need at school, like stationary, mattress, those kind of things. So it becomes very expensive for one to study through high school, and also later on through university. 
Victoria: When we started, the Kenyan shilling compared to the Canadian dollar was much lower, we've really watched the economics of the two countries actually change dramatically over the past 14 years. So right now, a CME Trust secondary school scholarship is roughly equivalent to 1,000 Canadian dollars per year, per student, because we incorporate the school fees, but as well as all those extra costs Titus spoke about – so transport and books, etc. So for about 1,000 Canadian dollars per year, per student to join a secondary boarding school. And were based on the value of education being a human right. And also, we are trying to raise up a generation of educated youth that will, in turn, go back to raise up their own community. Canadians are very lucky, we're incredibly fortunate to have free primary and secondary education and a very strong education system. And it sets us up for success in a way that students from Mathare don't have access to. 
Titus: Mathare is the second biggest slum in Kenya, we are in Nairobi, the capital city. We have an estimate of half a million people living in Mathare, which is about five square kilometers. There's a lot of crime, there's also a lot of drugs. And you realize that young people, most of them, they don't have jobs, they don't have education. Even though things have changed for the last few years, things are still difficult. In Mathare, a lot of role models, especially when you're growing up, the ones that were considered cool, were people who are using drugs, they were deep in crime. They used to treat women in a very bad way. They used to have a lot of violence. And the main, the main business in Mathare is something we call Chana – a traditional brew, which currently is legal but made and distributed not in the legit way. So that supports a lot of families. And sometimes the police can come in and harass the women selling and they can steal away their money, they can destroy the business. And then people keep on starting again, afresh. There are also young people trying to do their small businesses, young women and other women trying to work hard to make sure that the community keeps on moving – but it is crammed into small houses made of iron sheets. There's a lot of unhygenic sewage running around the community. But at the same time, people are very happy. They're happy to support each other. It's a community that always comes together when someone is in trouble. If you lose someone, if someone is sick, people don't look at their tribe or the culture they come from but they look at how can I support their neighbor? Because we consider each and everyone brother and sister. 
Victoria: It's that welcoming spirit that had me hooked from the beginning and more importantly, the resiliency and the ingenuity and the incredible resourcefulness. It's just – you can't miss it when you walk around Mathare. It's infectious. And it didn't ever leave me feeling sad. It left me feeling grateful and hyper aware of my privilege, coming from where I came from. But it never left me feeling sad. And I don't think you can maintain an organization for this long based on either feelings of sort of guilt or sadness or any of those. It's always been a hopeful place. And it's that hope that has been so powerful. So people from Mathare are proud to be from Mathare and so they should be.
Safa: As Titus and Victoria have explained. masari is a very densely populated community. And when the coronavirus pandemic hit Kenya, it brought with it very unique concerns for the community in Mathare and the programming of CME Trust.
Victoria: Thinking about a communicable disease in a place like Mathare is really scary and very different from thinking about it in the context in which I live or where I grew up. People are very, very, very close together. And access to water is extremely limited and access to hygiene products extremely limited. Whether just a distribution issue or an economic issue, people can't afford it. So I was terrified. I was terrified because there's lots of people I  love and care about. And nobody knew how this would be and how quickly it would spread. So it was quite scary. We decided that we needed to address the short term immediate needs, like food and hygiene because people were losing their jobs, access to food was scarce, people were being told not to move around. So there were some immediate needs that we needed to address. And we also needed to look at some of the impact, of course, on delivering our program. Kids were being told that they wouldn't be returning to school. 
Safa: As schools were closing across Kenya, many of the CME Trust scholars were forced to return to Mathare from their boarding schools and their universities. But the CME Trust team quickly adapted their programs to the new and emerging needs of their community. To explain how, here is Esther, the Kenya Field Rep in charge of the post secondary scholarship program and the alumni program.
Esther: So Coronavirus, when it started here in Kenya, that is in early March, we had our discussion to discuss on ways forward, putting in mind where our scholars live – in a slum. Most of their parents, they depend on casual work. So most of them, their work had to to end and they have kids to feed. So we had to think on the basic needs to our scholars and also to the community at large. So what we did, we sat down and discussed on how we can come up with a food package that we can distribute to our scholars and also to some of the communities around our office. And besides the food distribution, we also discussed on how we can keep our scholars engaged away from school, because all schools were forced to be closed here in Kenya. We came up with a program to engage our scholars by sharing some learning materials via WhatsApp, because at that time, people were still afraid of the Coronavirus, so we couldn't encourage them to come to the office. So we used the social media platforms to share the  learning materials. That program was led by the alumni. I can say it was a bit scary, but we came up with proper strategies to cup the challenges. 
Safa: Sharing his personal experiences as a secondary school CME Trust scholar who had to return to Mathare, here is 18 year old Emmanuel. 
Emmanuel: Okay, I was worried about the closure of schools. When we had the breaking news through the televisions and radio in school, we heard that the school said to be closed down. And then we had to just come back home, and stay home, even though it was not really safe, because for one I thought that as I was coming or maybe on my way I could contract the disease. I was really worried and it also became difficult searching for landing materials here at home. But then, through the help of the CME Trust Alumni,. we had the online classes, they were sending for us some question papers we were to do and then we give back the answers. 
Jesse: Most of the alumina, all the post secondary scholars, we were gathered together the office because it was like a safe space where we could like have the internet and also have some discussion among ourselves. We realized that we the university students can access and learn, but our brothers, our younger sisters and brothers could not learn from home simply because majority of them could not access internet. We realized they need to learn, they need to be busy at home, they need to continue learning – our focus, main focus was for the candidates because with them we knew that they automatically at the end of the year, they were going to sit for their final examination and they could not learn, so we chipped in and organized for them the test.
Safa: That was Jesse, one of the Alumni Association members explaining how they came up with the idea of supporting the younger students in their community. Here is Jecinta, another post secondary school scholar and alumni member explaining how they felt and why they wanted to lead such a program.
Jecinta: One thing I've learned is the power of giving back to the community. So if somebody showed me the way, why not help another person too or improve somebody's life. So for me, like I study in a private university – with the  private, even before their closure, we had education on how we can do our online study. So for me, it was like easy, but when I went to the office and started like a discussion with my fellow alumni, for most of them, they don't have a phone, so you can't access the online materials. So that's why we said, if you can't access the material, they just come to the office, we will do it in shifts, and the alumni will really cooperate and help them in their homework and in their studies.
Titus: We majorly focused on the candidates, those who are specifically the candidates, those who are going to sit for final exams, about 15 of them. We had Monday, Wednesday, and Friday, they could come to the office, the office is very safe, because we are closing stations and also Scimitar dude issued them with the mask.
Esther: Also on the impact of the online tutorial, it enabled our scholars to be busy, the high school scholars and also for the post secondary scholars, they were also engaged because the office has five rooms, so they had their separate room the alumni – like for example Jecinta, she could come in the office and do her online lectures there. And also some of them, they started to go for like online business, so they could also use the space and the Internet to do their personal things like businesses, online businesses. So I can say it was like a mutual benefit for the high school scholars and the post secondary scholars.
Emmanuel: I felt like going on with education, because I got access to the learning materials. And then in case I had any question that maybe my parents could not help me back at home, I could come and ask the alumni because they have the experience. So they gave me the ideas, and I felt like recovering what I had been learning from school, apart from just not forgetting.  To my parents, the alumni are doing a nice job. Because I didn't have all the time to sit back at home and relax. I had time to go and study with my fellow students and also learn from experienced people, you see. Sitting back at home, you just relax, that's where again, you may be tempted to get into maybe drugs and even into robbery, which is not a good way to go. 
Jesse: This program has really enabled me to have a connection with these scholars' parents, because most of the time, they were using their parents phones and gadgets. And so most of the parents did tell us: eh, you are doing a good job, you are an example to these kids. And that was a great, great experience, because Mathare is all about sharing.
Titus: And in Mathare, some of the scholars or most of the scholars that we work with, may be the first ones to attend high school in that family. So there's a lot of expectation, a lot of hope from the parents. So when this COVID struck -it was like what will happen next? This is the person we are looking up to, to change the current situation of our lives. So when they had that opportunity to come to the office, which many parents consider it a safe space for their children, they feel that they can count on these children. It's a value addition to them. And it's one less thing to worry about, other than other issues that affect them in the community.
Safa: Access to education wasn't the only need. As Esther explains girls and young women were disproportionately impacted and needed further support. 
Esther: And three months after the covid, we had so many increase of early pregnancies. We came up with an idea of having a program for our girls and we called it sexual and reproductive education – whereby our alumni, the big girls were to mentor the young girls, because the high school scholars were the ones who had been affected with the early pregnancies. We also came up with an idea of distributing sanitary towels, because there was a discussion that most of them are asking the boyfriends to give them money so that they can be able to buy the sanitary towels. So as an organization, we came up with an idea of being able to distribute sanitary towels every month for our girls, when they are at home at this moment, because most of them they're still at home. So we came up with a discussion on how we can guide our small girls who are in high school to be responsible, because to be honest, most girls are engaging in sex, so on how they can be able to protect themselves. We talked about ways to protect themselves from getting pregnant so that they can be able to finish their education. And after that we were able to distribute our sanitary towels to them so that they can be able to use them – because also some of them they are not courageous enough to ask their parents to buy for them the sanitary towels every month. So we tried to curb that challenge.
Victoria: I think one of the things that COVID has done is highlight these barriers that we know are in place, but just really exacerbated them. So increases in transactional sex and increases in pregnancy, leading to girls having to drop out of school. Why? Well, because at a boarding school, these things are provided. And the boarding schools really provide a support system in place like a pseudo family. And when that breaks down, and all of a sudden, you have parents who are out of work because of the pandemic, and you have many more students at home than the parents were anticipating because their kids were meant to be away at boarding school – it's just this pile on of stressors and adds to the huge crisis and really shows where these barriers are and where we still have work to do. The case of parents not being able to support the girls, it's not for lack of will, it's just for a lack of resources. So even where high schools may have been providing online opportunities, if you don't have a mobile phone, or if you can't afford the airtime. How are you supposed to participate?
Jecinta: For me I have been always been passionate about gender. Currently, I did a study in Kenya from the 1st parliament to the 10th parliament – girls or women are lagging behind in terms of leadership. Here, some of the girls live with their parents in one room, there is no space maintained. So in a slum like Mathare, a lot of girls get pregnant when they are not in school, because even their boyfriend maybe at the the next door or there is someone closer who can come and maybe seduce her. So this will really have a negative impact on girls, in particularly compared to men.
Esther: We always try to make sure that we are gender sensitive. First of all, I'll start with the recruitment that we always do in December after the  Kenya Primary Education Exam, we select our scholars 50/50, five girls and five boys. And also when it comes to the programs, we always make sure that when it comes to leadership, we have a chairlady and the chairman on their activities. So we always try to encourage our girls to not to shy, to share their ideas in case someone has a question or even to take positions to lead a program. We had this discussion because some of them were a bit shy. So we came up with a Girl Talk program, we came with the girls, trying to mentor them, trying to look for mentors who can talk to them. And I can see there is a great improvement.
Safa: Throughout the mentorship programs and sexual and reproductive health education programs and all the other services that CME trust offers the partnership and relationship amongst the Kenyan and Canadian partners as well as the alumni and the students, the staff and the community have really be at the heart of all the activities that are undertaken.
Victoria: One of the most impactful parts of CME trust is that it has always been a partnership of equals and that the ideas for our programs, including the corona response have come always from the community. So you know that human centered design theory, while lots of people talk about it, that's been our model from the very beginning. These are friends and colleagues who work together with a lot of trust. It's really one organization, as opposed to, you know, a Canadian organization and a Kenyan partner. And that's our strength. That's always been our strength. We are very small and entirely volunteer run. So it's been a challenge. But of course, it's also where we pull together and have really supported each other and work very closely together. And again, that's what we've always done from the very beginning.
Titus:  I think we also very agile, being a small organization, it's easy to communicate, to have a quick call and to react quickly on different levels. Including the scholars, and also the parents, we try to make sure that everyone is involved, is put in the center of the discussion. And we have people from different backgrounds, with different skill sets. Some people are more experienced than the other, so there's a lot of skills transfer. And just working together as a team, making sure that everyone in the team is on the same page. And we make sure that we continue together as a team. It has not been an easy journey, because we have been through ups and downs. But because of the support coming from the Canadian side, financially, through the advice, through the cooperation, through the good energy and learning about risk management, and all these things, we have managed to achieve a lot as a small organization in the community. If someone is listening to this, and they're thinking what can they do in their community? CME Trust is a small organization, it's a partnership. We can challenge you to just go to your community and start similar ideas because no one will come just from out there and start doing something for you. As a community, you have to come together, find people who believe in you – partner with them and start doing small things that can change the community. And that is the similar message we try to pass to our scholars, and also the people that we work together in the community.
Victoria: CME Trust has been trying to break away from a sort of neocolonial model of development, and always focused on capacity building within the Mathare community, focused on social innovation, focused on empowerment – so that it could be the Mathare community helping its own residents. What we've tried to instill in the scholars from the very beginning was a commitment to giving back to the community after benefiting from the CME trust scholarship not to forget where they came from, and to use that to generate change at home, and it's working.
Emmanuel: In Kenya, we consider education as the key to success, which is an inspiration to me as a student and my fellow students. And so, we have nothing to do at this time more than learning and getting to the top with the best grades, and then maybe heading to the best universities, maybe around the world. Just to add an encouragement that nothing comes on a silver platter, you need to work through these hard times, it's when we get to know – or we get to learn. And that's what I just have to say.
Jecinta: I'll just encourage everyone, even in Canada, just support a girl child, let's have an equal opportunities for both gender, let's not neglect or focus on one gender and leave the agenda behind.
Jesse:  COVID-19 has come with a lot of things, a lot of changes. And I believe everyone is an expert in the community. And I believe that we have a lot to learn. If there is an approach that someone thinks that that can help another community, then let them feel free to reach you and share with us.
Esther: To anyone that is listening to this recording, mine is to encourage people to always have the spirit of giving back, despite the expertise that you have – that different expertise that you have, it can make a big, beautiful difference in our community. And that's the way to go to make the world a better place for everyone, for the boy child and for the girl child. And also education is the key to success, like Emanuel has said, so let's try to encourage our small brothers and sisters in the communities to go for their goals through education. 
Victoria: You heard the most powerful messages already coming from coming from Kenya. And really that's the point. As Canadians we just need to recognize that our education, our access to education, or quality education is a privilege that is not shared by the vast majority of the world. And without education, we can't solve any other issues. We can't solve other social issues, we can't solve other health issues, we we can't solve even gender issues without education at the base. And so investing in education is the greatest investment that you can make in building a safe and secure and equitable world. And so people should feel so motivated and empowered to do that. It's about the humanity of the situation. And you've heard from these incredible humans on the ground today. Thanks to technology, it's never been easier to work more cooperatively. But we also can't take our eye off the prize. So while things are moving along really well, we need to keep investing and we need to keep supporting and for that we need volunteers and for that we need financial support and for that we need partners. And so just to encourage people, even at a time of feeling very overwhelmed by our day to day lives to remember that these are ongoing things and ongoing needs globally. And we have to keep finding a way to still put energy and resources towards them.
Titus: Yeah, that is beautiful. But just to say this is a partnership, and we believe every partner brings in something, we have learned from each other over the years, it has been a good journey.
Safa (outro): That journey continues as the Kenyan Field Representatives, volunteers, students, alumni, and community members continue to collaborate and support young people and their families in Mathare through access to education and other community supports.  To connect with the CANADA Mathare Education Trust, you can visit their website, www.https://www.cmetrust.org/  follow them on social media and feel free to send them a message of support. Thank you to all our wonderful guests for sharing their story with us today. Make sure to tune in to the next episode of the Tapestry 2030 podcast as we continue to share other stories from our community. 
The Ontario Council for International Cooperation  is an expanding community of members working for global social justice, human dignity and participation for all.  Join us! Visit https://ocic.on.ca/ to learn more.