TAPESTrY 2030 EPISODE 2: Dominicans Driving the Vehicle of Change
TAPESTRY 2030 Season 2
EPISODE 2: Dominicans Driving the Vehicle of Change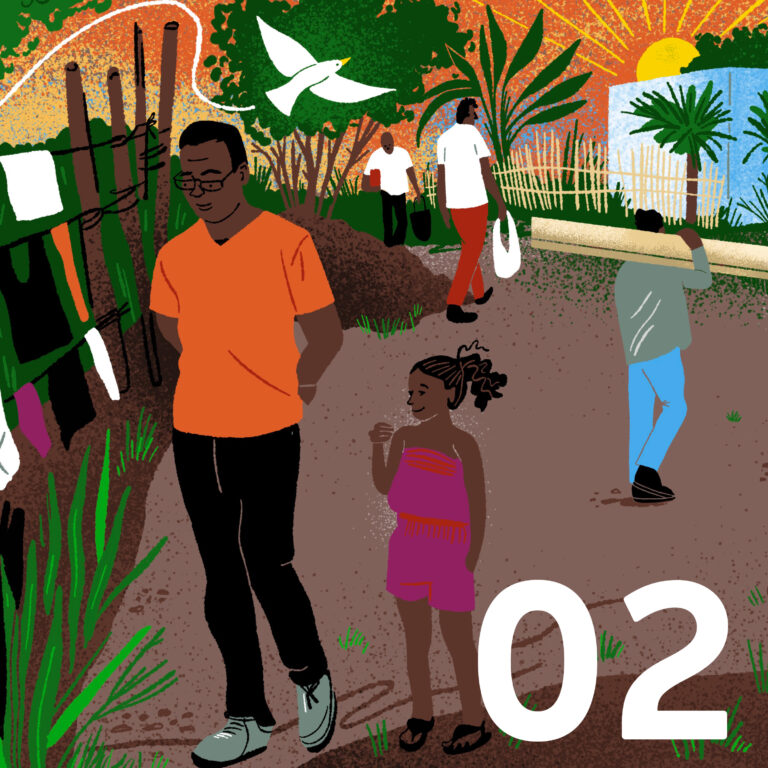 TAPESTY 2030 TRANSCRIPT – EPISODE 2
Episode 2 Transcript – ENGLISH 
Intro:    
Heather: You are listening to the Ontario Council for International Cooperation's "Tapestry 2030" podcast series, focused on the future of International Cooperation and global solidarity, and the partnerships needed for gender transformative, sustainable development. Joining you for this episode, I'm Heather Smith, executive director for Rayjon Share Care, an organizational member of OCIC, based out of Southwestern Ontario.
Crismary: Localization is important to me because it helps residents to utilize sustainable methods to find solutions to their problems.    
Scott: Localization is really important for me because I think that we should be giving locals the vehicles to drive their own change. 
Georges: Well, it is important to me because the community can take responsibility into their own hands. Because there are things within the community that we can resolve completely. 
Heather: Today we'll be in conversation with three very special guests joining us from the Dominican Republic. It's our hope that stories shared will take you deep into the heart of international cooperation, as seen through the eyes of real people working to effect change in some of the most marginalized communities in the DR. 
I am thrilled to welcome Georges Tertulien, founder and director of Plan de Desarrollo Social y Cultural Para los Bateyes (o PLADESCULBA) in English, partner to Rayjon Share Care since the early 1990s. We are also joined by the dynamic duo of Scott Coppa and Crismary Gutierrez, some of our newest partners in the Dominican from Puente Desarrollo Internacional. Welcome to each of you, thank you so much for joining us today!
Georges: Good afternoon. I feel very content this afternoon to speak with you all and to be together. Even though we are far away, yet we are together. My name is Georges Tertulien. I live in Santo Domingo, Dominican Republic. I am the founder and director of PLADESCULBA. We've been working for 15, 16 years. Our focus point is children. 
Scott: So my name is Scott Coppa. I am the co-founder and CEO at Puente Desarrollo Internacional. My main role is to really establish relationships with other organizations that are like-minded and have similar models and missions and visions as ours. So we've been working in international development for about five years now.
Cris: Hello, my name is Crismary Gutierrez. I am the director here in the Dominican Republic and also a co-founder. My responsibility is really anything related to the organization! But, my main role is to make sure that all of Puente's initiatives come to fruition and also to empower our residents to continue with those initiatives. 
Georges: Well, we have been working for about 15 years in the community, Barrio 41. When we began there were even more needs there at the time, because the neighbourhood was new, because when Hurricane George passed in 1998, it destroyed everything that was in its path in the country, and so all of these people that live in Barrio 41 have their roots in the bateyes—the sugar cane plantations all around the sugar cane factory in the town of Consuelo. The factory isn't operational now, but there was a time when it was a large operation in harvesting sugar cane in the area. The residents of the bateyes that were damaged by Hurricane George moved from the bateyes with the remnants of their homes and came to this area to take portions of land and began to build their lives, to build their little houses to make a new life because the hurricane destroyed everything. There they began to rebuild their lives, building their little houses, but with many needs, there was no water, there were no bathrooms, there was nothing, nothing.
And when I saw these needs and so many precarious situations, the homes, and I said something had to start because God didn't order us to do nothing when seeing those that are in great need.
And I started to work to meet with the people, to hold meetings every Saturday we had a meeting with the community, to see what were the needs because in this time we didn't have any funding. 
And we decided to started working with children who were the most affected. The children were walking about very malnourished, in really, really poor condition, in a neighbourhood that was recently born out of a garbage dump because there was an old garbage dump that was eliminated little by little when it was converted into the neighbourhood.
And the whole world was afraid to enter into Barrio 41, nobody wanted to enter because they said that it was a place for thieves… everyone was afraid. 
And so, when the Canadians started to arrive, the Rayjon team, by then things had started to change, little by little. People stopped being afraid.
And Rayjon came every year during the time and they brought us assistance for the children, they brought us support and they also brought other groups, the group of nurses from Canada that always came to bring medicine, food, to bring things, all from Canada for this neighbourhood.
And so, this is how we were developing, developing until we were finally able to secure the land to build our centre where we are now. But it has been a grand process and a grand history.
The Barrio 41 community is a hard-working community. The people like to work. When they can't earn money, when there isn't work, they are forced to go to the garbage dump to find discarded things—from scrap metal to clothing, even food they go there to find when there are many needs, and the people are most in need. 
Cris: Puente here in the Dominican Republic started five years ago now. It began in Constanza, where the main office is located. It started through Scott and Hope who were Peace Corps volunteers. When we started, we started with only two volunteers, three volunteers. And the only volunteer here in the Dominican Republic was me.
Yes, it was exciting because in the beginning I started working with Scott in the schools, giving talks, getting to know the community and so on. And later when I knew about the Puente initiative, it really captured my attention because it is a project that helps us to empower ourselves, and to do the work ourselves if we better understand the problems that we have. 
Scott: I can chime in a bit about how it was founded. But it was founded by Hope Tambala and myself. And, you know, when we were first starting off there were only really just two or three volunteers. And Cris, she was the only one actually in the Dominican Republic at the time. 
So, we actually founded Puente based on the needs that we saw during our time in Peace Corps. About seven years ago we were working with a lot of medical missions, and they were using pen and paper, and you know, a lot of them wouldn't go back and they wouldn't really collect that longitudinal data to really justify some of their initiatives, and to really track the patients over time, to see if their initiatives were helping. So, um, we saw that, and we were immediately thinking, they're also not using the locals as much as they should, because who knows the problems of the community more than the people that live there? Right, that is one of the mottos at Puente, you know, if someone's living on a dirt floor, or someone needs to go, you know, thirty minutes, and collect water, they know their problems way more than us as incoming organizations. And so, we really wanted to give locals the exact same resources we had as Peace Corps volunteers, you know, be it an application to collect that data, grant opportunities to solicit those projects that they may see. And so, we were just trying to give them the same tools that we had, and let them grow and learn, just like we were.
And now the app is actually being used in 9 different countries by 12 different organizations, and it's being used for everything from identifying patients pre- and post- medical missions, to identifying water solutions, and everything in between, right? So, it's taken on a lot of momentum lately and it's extremely exciting to watch it progress.
Cris: Yes, that's the way it began. Later we started getting to know the community like that. So, I gave a training for a group, and there we began to focus Puente on using the app and walking in the communities, seeking information that would help us to identify "What are the problems in our communities, and how can we resolve them?" 
Scott: So it was a very exciting time. At the beginning, Cris was really working with me in the schools, and we were teaching kids about HIV prevention, and we were working a lot with children, much like Georges.  missing in English. Just leave out?
So, we actually did start with Cris. Cris was our only volunteer, you know, at the time. But everyone, you know, her energy is just contagious, you know people saw the passion that she brought to Puente, and the passion that she had to improve these communities. And it really just kinda caught fire. 
We are now in five or six different cities here in the Dominican Republic. We have over forty volunteers, we call them volunteers, but they are really more development practitioners, collecting data, and soliciting grants and identifying the needs of the community in order to meet them. Which is just beautiful. It's really come a long way. 
Heather: It is wonderful to see all the ways that the two organizations have grown, little by little. 
In 2021, Rayjon invited Puente to a new consider a new collaboration with Rayjon, and with Georges and PLADESCULBA in Barrio 41. They agreed (with enthusiasm) to facilitate community needs assessment, using Puente's data collection app. Crismary, can you tell us what did that process look like? 
Cris: For us it was exciting, because it gave us the opportunity to expand and take our initiative much farther away. 
In particular, when we got to know the team over there, when we met Georges, when we met Yosiph, Yulinior and Jesús, we noticed that they are people who want to develop themselves. They are people who are concerned about their community. Especially Georges, who is a great leader there. Everyone has respect for him, everyone trusts him. So, for us it wasn't difficult. They are very motivated, so that was what made everything work well, because the same goals that they have, we have.
The process there, the first thing we did was get to know the community, get to know the leaders, like Georges. Georges was the one who introduced us to Yosiph, Yulinior, Jesús, to give them the training.
After the training was done, we then taught them how to use the App, how to ask questions door-to-door to verify what problems the community had. It is very easy to use the application with cell phones. They can go to any community since they have it portable.
After this then they hosted a priorities meeting where the residents talked together and they told them all of the issues that had been identified by the community [through the survey]. 
We always ask the community "What do you what to focus on?" We never do a project that is just what we want to do. The community has to want the project. Whatever the community selects as the project, then we get started on the planning. 
It's a process. A process of building the capacity of the community leaders to identify the problems and teaching them how to find solutions for those problems. 
The community, the first thing that they asked for, because many issues were identified, like water, lack of floors because they had dirt floors, and also lack of bathrooms. The priority was water. But, water is a complex project.
We started with floors because floors are something that you need for health and sanitation, and also because it is an easy project. It is good to start with an easy project with the community to see that the community is united and to see how much they want to progress or develop. 
Scott: So, in Peace Corps they actually have a thing called "Easy Win," right? And it's something just to really motivate the residents, and to show them that they can do it, right? You can do these projects on your own. And so that's really what this floors project was, it was an easy win to really give that confidence to the community, to show them, you know, you can all of this.
Heather: And Georges, how did the community participate in the floor project?
Georges: The community received the Puente team with much enthusiasm. And the community received the floors with a lot of joy, because there are many homes that weren't able to lay down their floors, it had been a long time, years with their little dirt floors, years that they hadn't been able to improve them. And thanks to Rayjon, Puente, who have come together to bring joy to their hearts. In reality, the materials are very expensive. 
Scott: Explanation of community contributions. Find the English. Is now in the Spanish version. 
Cris: In this case, the people who were unable to provide the labour, Georges and the team went to city hall to seek help with the labour. So, the municipality helped, and they sent a team to help those that couldn't provide the labour themselves or weren't able to pay someone to do it for them.
But generally, what happens is that the same people in the community, the other neighbours help, or the president of the community committee searches for economic assistance for those people. 
Georges: The cement floor project was something motivating and something of a surprise, because a lot of times things that are promised don't happen (you know how it is). And they saw that it was something real, and when the men came to start the project, a lot of people weren't ready, a lot of people, because of the surprise. They didn't believe it would be something fast. It's a beautiful thing when a person can have their own clean floor, and it is healthier than the dirt floor. There is a dynamic, a dynamism let's say. 
Cris: Yes, so the process was fabulous. It was an easy process, because everyone was motivated, and everyone had the same initiative. The community united. And they worked together to complete the goal. 
Scott: I can also say that the goal was what, thirty-two?
Cris: Yes, thirty-two floors.
Scott: When it was all said and done, they actually completed 45 floors. Which is incredible. And they all did it within 3-4 days. It's actually astonishing. We've done about 160 floors to date and we've never seen anything like that.
Just like Georges was saying, everyone in that community does like to work, and it really showed through this project, they really aren't afraid to get dirty, they aren't afraid to get the job done and work long days, early mornings, and late nights to achieve it. So, it was beautiful. It was really a fun project, too.  
Cris: Aside from how the team was so great, everyone divided up the work in a very efficient manner. The engineer was in charge of checking out the water problem, the supervisor was overseeing the project, and Georges was supervising the materials, verifying the measurements of the homes, everyone did an excellent job because they divided the work very, very well. 
Heather: Incredible. What collaboration, right? There is a lot of buzz in the international cooperation sector right now about "localization," and approaches that are truly "community-led." What does localization mean to you?
Cris: For us localization means guiding the people and giving them the resources they need, so that they can do the work themselves. 
Scott: Yeah, I mean, I think localization to us is, Cris really nailed it on the head, and it's really giving the resources to the people that need it most. 
You know, it's not political. It has nothing to do with politics, or the election in four years. It's truly who needs this help the most. And then giving them the resources. 
With the App we can see who needs the help and with our partners we can try to resolve it, but we have to work together, with the community and our partners. 
In International development, you can never do anything alone. And you can never assume that you know the needs without first talking to the people. The residents have to be the ones driving the vehicle of change, right?
I think that's what international development should be about. Be it economic development, or financing or whatever it may be, we just need to give people the opportunity to do it for themselves. 
Cris: Yes, because if we include the community in the projects, they will feel that they are part of the project, too. An example happened with Scott, when he was a Peace Corps volunteer. He was working on a project, a basketball court at a school. And the people who donated to make the court came. They did an activity together in which the children built a little tree, with recycled materials. With this activity they involved all of the children from the communities that lived around the basketball court, around the school. Those children were delighted, they were bringing bottles, little lights, everything, they were very, very excited about the project. And after they finished, they took pictures, they danced, they ate, everything, some children arrived from other communities, who lived a little far away, and who had not participated in the little tree project. When they arrived, these children wanted to destroy it. The children were removing the bottles, they were removing the lights, and the children who did participate became like a group of police officers there, in front of the little tree, saying, "No! No! You can't destroy my little tree, we worked on that. All of our effort, you are not going to wreck it." So, that showed us that when everyone is included, it doesn't matter if they are adults, if they are young, if they are children. As long as they are involved, they will feel part of the project and will value all the work they do even more.
Georges: Like Crismary was saying, it's considering the community as a primary resource. And looking for resources outside, for example the economic resources, first with the resources that they have, that are within their capacity. And to use those resources to do things that can benefit everyone in the community. 
The community has full knowledge, has it in its hands, and it can go forward alone.
For example, with the fish rearing project. There are children who have come to help with it, with the fish pool. But I have always wanted to involve them in the work. They can be volunteers for things that we need to see in the community. 
Heather: Recently Crismary sent us a report about the cement floor project. She said: "…the team in Consuelo is a test that guarantees for us how much we can achieve working in what we love, in what is important and how much we desire to move forward. Tell me about that.
Cris: That for me is really important because generally, I, as a Dominican, we are used to organizations coming and working and bringing us things and giving us things and then, they leave. And we don't hear any more about the organizations unless they return again.
And we are very grateful for that, but one of the things that we like about the community over there in Consuelo and the objectives that we have is that we don't necessarily have to have another organization come and say, "O, we're going to work on this project, what do you think about working on this project?" This is a way of showing ourselves that with a little bit of resources, with a little motivation, we can do a lot. That the more united the community is and the more desire we have to move forward, the more we can do. 
Scott: They weren't dependent upon that help. They weren't waiting for anyone to come down and meet those needs. They knew those needs and they can meet them themselves. Just given the materials, they can be the ones to lay those floors. They don't need people to fly down and do it for them. 
Right because if they are the ones sitting there, waiting for something good to happen, it might never come. I think that giving someone the opportunity and the chance to really better their lives is what it's all about. I think that's what international development should be about. 
Georges: We have learned a lot. We have learned that together we can do many things. And we also need to educate ourselves and educate the community, too. For the projects to be effective, they must be done together to achieve the results we're hoping for. Because together we can do more. And that fills me with satisfaction to see. When Puente arrived in the community they were building our capacity and motivating us to give more of ourselves as leaders in the community. 
Heather: What might be the challenges to a localized approach or the empowerment of community leaders? And do you have any ideas about how to overcome those challenges?
Cris: One of the challenges I have seen here the most, specifically in Constanza, is that the leaders who have the desire and the passion, who want to make a change in their communities, they leave. There isn't work, there aren't universities where they can stay, so what they do is go look for better opportunities. They go to school and get training and everything, but instead of bringing that knowledge back to their own communities, they take it elsewhere. 
Scott: So, you know, one of the biggest challenges for us is that we've seen numerous times, countless times honestly, that the community knows their biggest issue is water, right? They've known this for a decade, since they've lived there. And they go to the community, the city hall and they try to articulate their needs, and oftentimes they can't meet those needs, maybe because the community is too small, and its just not worth bringing water there in the eyes of the city hall, whatever it may be. 
One of the solutions to that is really just trying to unite the community. We've oftentimes actually made neighbourhood associations so they can be a unified force and they can go to the city hall or the local water utility company and say, "This is the problem. We have 115 people saying this is the problem. Can you help us meet it?" So, that is one thing we're trying to help people articulate… articulate those needs a little bit better so that then they can create traction on their own and not have to wait for other organizations to come. 
Heather: You three are now deeply connected with the people of Barrio 41. How would you describe their vision for the future? Or what do you hope to see?
Georges:  Well, the vision of the 41 is many things that need to be improved. But there are some things that do not depend, for example, on an international organization. These are things that depend on the authorities as well, the local government, who have not assumed their responsibilities with the needs of the population. The community together with organizations such as Rayjon, Puente, PLADESCULBA, can help to move forward, but the municipal authorities, for example, often ignore those needs. For example, one community lives without water. It's difficult, without water because we've been here for a few months and so far, the water problem hasn't been resolved. But first the street, the water, the electricity, are priorities. The government should at least guarantee them that.
Scott:  One of the visions for us at least is to continue collaborating with organizations such as Rayjon, Plan de Desarrollo Social Cultural para los Bateyes, as well as Friends of the DR to really keep empowering these locals to meet some of these needs. 
Cris: Yes, so our plan is to continue working on other projects that are needed, together with the community. So, our next goal is to work with water, to work on the bathroom project, which is already in the planning stages. Because in that community we noticed that there are a lot of issues. People have been living more than 10 years there, and 67% of the houses have zinc roofs, 64% are without any form of government assistance, 80% of people there worry because they don't have enough food each month. So, there are a lot of problems there.
Scott So Georges and Cris really just nailed it again. There's a ton of needs in the community. From the streets to the water to the electricity, the list goes on an on. But the most important thing is to start. 
Cris: And we've already started! 😊
Scott: Momentum is important in international development and it's really cool to see that the neighbourhood president is probably, what, twenty-one years old? And he's just super motivated, really energetic and it's that contagious vibe that I was talking about what Cris said earlier. 
And so, it's really important to continue supporting people like this and organizations like this so they can really take advantage of that momentum. We gotta keep up the momentum, we gotta keep showing them that they can do everything on their own, and if not, let's try to help them find those resources so they can.  
Heather: What do you think is the role of international partners in the support of sustainable community development and what suggestions would you give to an organization like Rayjon that wants to support localized solutions to development?
Cris: For us Rayjon is a perfect organization, the type that we really love to work with—
Heather: It isn't perfect! 
Cris: Yes! I mean in the sense that you also want to give people the resources to do the work themselves. You don't expect to come in and just say "No, we're not going to do that, and we're going to do this and this." You empower people. You let us know that we are also very intelligent and that we can also do those projects that other people do. Especially if you give us the training we need. So, for us it gives us a lot of joy to work with an organization like you, that really wants to help people but also wants to empower them, not only help them and use them, but really empower them, so that those people can follow up and see how things are really working.
Scott: She was very passionate about that (laughs)
Heather: Yeah, that came through!
Scott: Dominicans are extremely intelligent, they can do absolutely everything that these incoming organizations could do, just as well if not better. That is always a motto, and that's the motto that we go by, and I think that's exactly what Rayjon believes in as well. I think that just empowering these communities, showing them that "You can do it," you know, "Your opinions matter, your priorities are our priorities," is where you start. So, Rayjon's a perfect example of that. And not just because you're hosting the podcast!
Cris: No, not because of that! (hahaha)
Scott: And I hope that more people can have the mindset of Rayjon and Puente, with the ultimate goal of giving the power to the community. 
Heather: As we prepared to end our discussion, I asked Georges to share a bit more about how he feels moving forward, and what he believes is necessary to future success.
Georges: It's been thirty years since I moved to Consuelo to work on the bateyes, the sugar cane plantations. And we have seen many forms of discrimination, in my experience. When the discrimination wasn't because of [skin] colour, sometimes it was because of the language, if not the language, sometimes for the religious beliefs, and so on. God designed this world so that all of his children would live in peace and tranquility. And one of the things that I always tell the people is that with love, we can resolve many differences. Because if we see with eyes of love, we won't see the faults of others. We have to know how to lift one another up. 
I feel backed by the help that Puente has been giving us in the community with the support of Rayjon. Because in this way we can do a more effective and lasting job. We can give to the people of the community a gift that will last. And we can also educate them that the gift that is given, it isn't an easy gift that comes to them. 
And Rayjon is organization whose work at the international level has surprised me. For example, in Haiti—and I see the extraordinary work that these people do—look, it is all for love.
Heather: All for love. Georges, Crismary, Scott, that is certainly something we at Rayjon have seen as foundational to your work in the DR. I want to thank you all so much for your partnership and for sharing your thoughts with us today. Friends, colleagues, and listeners curious about international cooperation: Let's keep learning, growing, and collaborating—all for love. 
Heather: Remember – Localization Matters! We encourage you to learn more about the work of Rayjon Share Care and our partners in the Dominican Republic w*  at rayjon.org  and puente-dr.org. And find us on social media @rayjonsc, and @puentedr. If you haven't listened to the Tapestry 2030 podcast episodes from last season, please go back and listen. 
Make sure to catch our next episode as we continue to share other stories from our OCIC membership community. The Ontario Council for International Cooperation is an expanding community of members working for global social justice, human dignity and participation for all.  
Join us! Visit https://ocic.on.ca/ to learn more. Thank you! Muchas Gracias!