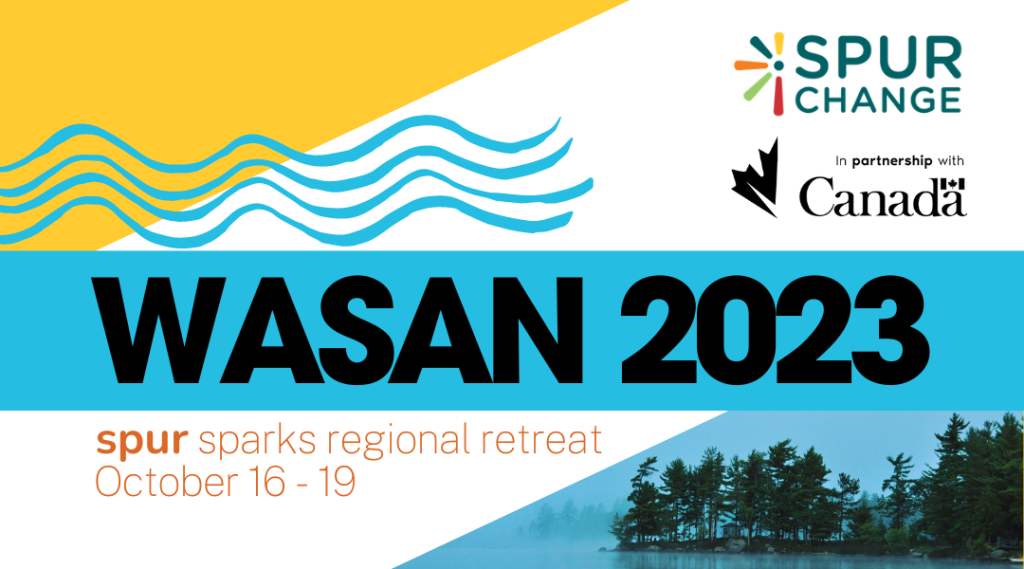 Wasan 2023 Spur Sparks Regional Retreat
Mobilizing for the UN Decade for Action on Water
October 16 - 19, 2023
The Wasan 2023 Spur Sparks Regional Retreat hosted by the Ontario Council for International Cooperation (OCIC), in partnership with L'Association québécoise des organismes de coopération internationale (AQOCI), the Atlantic Council for International Cooperation (ACIC) and Spur Change, is envisioned as an extraordinary bilingual opportunity for civil society actors from small and medium sized-organizations (SMOs), including youth (18-35 years) from across Ontario, Quebec and Atlantic Canada to come together on Wasan Island to deepen collective awareness, understanding and action towards:
One of three Council-led, Spur Sparks Regional Retreats this year, Wasan 2023 will be a space for 20+ participants to tap into and learn from collective wisdom and efforts, and to share and co-create initiatives and strategies for increasing public awareness and action in 2023-2024 and beyond, and for amplifying community-led initiatives and calls for action, globally and locally. 
About our Gathering Place:
Wasan Island is located on the traditional territory of the Anishinabe. This territory is covered by the Robinson Huron Treaty (1850) and the William Treaty (1923). There are several neighbouring First Nations communities whose ancestors live(d) in this area, including Rama (Mnjikaning), Wahta, and Wasauksing (Parry Island). There are three nations represented in the area: the Anishinabe (Ojibway), Pottawatomi and Mohawk.
The Muskoka area is considered shared hunting ground among many Indigenous nations. Communities lived in this region in permanent villages or summer settlements historically. Chief Mesqua Ukee or Misquakie (English name William Yellowhead) fought with the British during the War of 1812. The Muskoka region is named after him. The Mohawks of the Wahta First Nation were moved to this area in 1881, from Quebec after a dispute with the Catholic Church.
The first permanent settlement in the Muskokas was called Obajewanung, at present day Port Carling. Within 20 years of signing the Robinson Huron Treaty, the community members were relocated to reserves in the area. In more contemporary times, Indigenous peoples are often erased or invisible from the landscapes of "cottage country" in Ontario, including the Muskokas. Cottage country has shifted how Indigenous peoples interact with their traditional territories, and in some areas this has led to strained relations.
For more general information about Wasan Island, click here.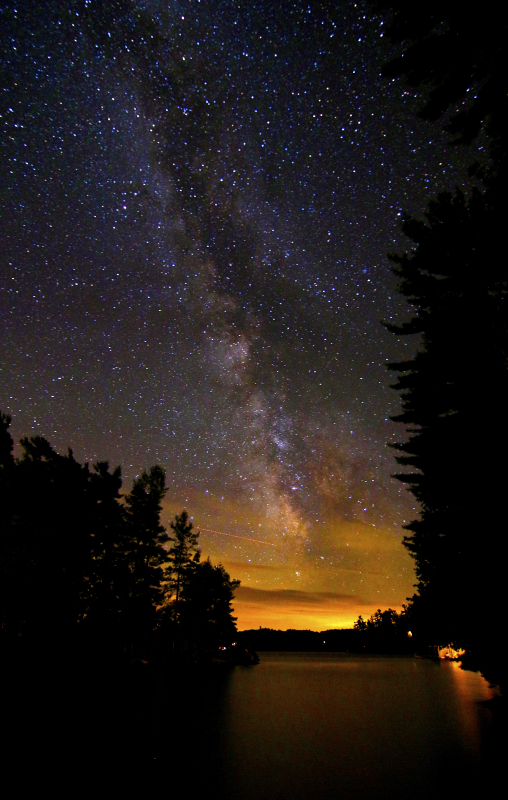 About our Retreat Themes:
In March 2023, 5 years into the International Decade for Action on Water:
2.1 billion people lack access to safely managed drinking water services. (WHO/UNICEF 2017)
4.5 billion people lack safely managed sanitation services. (WHO/UNICEF 2017)
Water scarcity already affects four out of every 10 people. (WHO)
90% of all natural disasters are water-related. (UNISDR)
80% of wastewater flows back into the ecosystem without being treated or reused. (UNESCO 2017)
Through the Water Action Decade 2018-2028, the global community commits to advance the water agenda by energizing existing programmes and projects and inspiring water action to achieve the 2030 Agenda, in particular SDG 6. The UN Secretary-General's Plan: Water Action Decade 2018-2028 outlines an ambition to advance progress across sectors.
The UN 2023 Water Conference was the largest-ever gathering of Member States and stakeholders to deliberate on water. The Conference inspired thousands of stakeholders to organize hundreds of side events at UN Headquarters, as well as during New York Water Week. Civil society, the private sector and scientists delivered a resounding message for a paradigm shift, working together for a sustainable and more socially balanced water future in an enabling, transformative environment. The Water Conference marked the starting point of a new narrative in sustainable development – one built on understanding, a revaluation of water, and the development of new water cooperation models.
The key messages from the Conference are that the global water cycle is a global common good; the human right to safe drinking water and sanitation must be accessible to all populations without further delay, and rather than being a threat to life and health, water must become a catalyst for health and well-being, securing nutrition and energy for all.
Most of the commitments outlined in the Water Action Agenda were made by civil society, reaffirming the central role that non government actors need to play in both achieving SDG 6 and transforming our planet into a water secure home for humanity. Cooperative and inclusive action through multi stakeholder coalitions was emphasized, galvanizing local communities, indigenous peoples, civil society organizations and governments at local and national levels, as well as international organizations. Innovative, affordable local solutions offer the best chance to solve water problems. Local, national, and regional policies that integrate water and related issues can provide the enabling environment needed to leverage positive externalities and strengthen multilateral cooperation for a sustainable and peaceful world.
– Summary by the President of the General Assembly March 2023
About Participants
Participants will be selected from a pool of eligible applicants by the retreat Steering Committee, following an open application process.
Shared accommodation, food and economy travel costs will be covered by the Spur Change program.
The working languages of this retreat are English and French.
Eligibility Criteria
Applicants must have experience advancing and connecting to global efforts on water, the environment and climate change.

Individuals with diverse lived experience and intersectional identities are encouraged to apply.

Youth (18-35) and representatives of Indigenous nations working locally and/or globally towards the retreat themes, and SMOs* working in the international cooperation and humanitarian sector in Atlantic Canada, Ontario and Quebec are strongly encouraged to apply.

Participants must be able to communicate in either English or French (or both!)

*Global Affairs Canada defines SMOs as organizations with consolidated annual revenue in your organization's financial statements equal to or less than $10 million, and with annual overseas expenditures not exceeding $2 million in development assistance. If you are not sure of your organizations' annual budget, please check your last Audited Financial Statements.
Selected participants are expected to actively contribute to and participate in:
a virtual (online) participatory planning process, including at least one Idea Jam (July 10 and 19)
the Wasan 2023 Retreat (October 16-19)
post-retreat public engagement and advocacy activities (such as for relevant international days and International Development Week 2024)
Deadline: Applications close Monday, June 26, 2023 at 10:00 am Eastern | 11:00 am Atlantic. Applicants will be informed of their status the week of July 3, 2023.
If you have additional questions or require more information please email vlad@ocic.on.ca.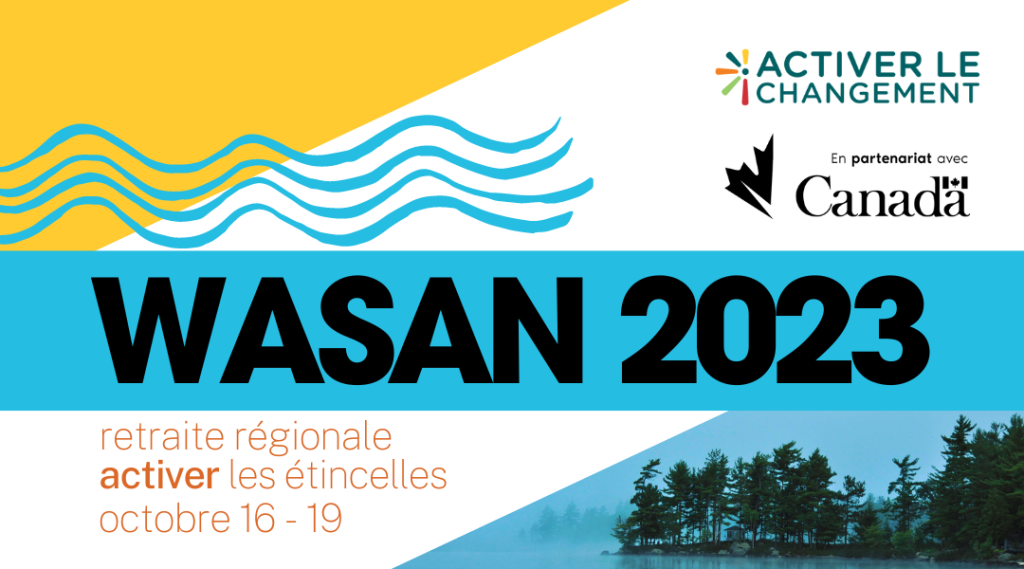 Retraite Régionale 2023
D'Activer les étincelles à Wasan
Mobilisation Dans le Cadre de la Décennie des Nations Unies pour L'action sur L'eau
Du 16 au 19 octobre 2023
Wasan 2023, la retraite régionale d'Activer les étincelles organisée par l'Ontario Council for International Cooperation (OCIC) en partenariat avec l'Association québécoise des organismes de coopération internationale (AQOCI), le Conseil atlantique pour la coopération internationale (CACI) et Activer le changement se veut une occasion extraordinaire et bilingue pour les actrices et acteurs de la société civile des petites et moyennes organisations (PMO), y compris les jeunes (18-35 ans) de l'Ontario, du Québec et de la région de l'Atlantique, de se réunir sur l'île de Wasan pour approfondir notre sensibilisation, notre compréhension et nos actions collectives en faveur:
● de la Décennie internationale d'action sur l'eau 2018-2028
● de la Conférence des Nations Unies sur l'eau de 2023
● du domaine d'action 4 de la Politique d'aide internationale féministe (PAIF) du Canada, axé sur l'environnement et les changements climatiques
● des efforts pancanadiens des PMO et des jeunes pour accroître la mobilisation mondiale sur l'eau, l'environnement et les changements climatiques
Une des trois retraites régionales d'Activer les étincelles dirigées par les conseils cette année, Wasan 2023 est un espace qui permettra d'accueillir plus de 20 participant-e-s afin de tirer profit de la sagesse et des efforts collectifs, et de partager et de cocréer des initiatives et des stratégies visant à accroître la sensibilisation et l'action du public en 2023-2024 et au-delà, et pour amplifier les initiatives et les appels à l'action des communautés, aux niveaux mondial et local.
À Propos de Notre Lieu de Rassemblement:
L'île de Wasan est située sur le territoire traditionnel des Anishinaabe. Ce territoire est régi par le Traité Robinson-Huron (1850) et le Traité William (1923). Il y a plusieurs communautés voisines des Premières Nations dont les ancêtres vivent ou ont vécu dans cette région, dont les Rama (Mnjikaning), les Wahta et les Wasauksing (Parry Island). Il y a trois nations représentées dans la région : les Anishinabee (Ojibwés), les Potawatomis et les Mohawks.
La région de Muskoka est considérée comme un terrain de chasse partagé entre de nombreuses nations autochtones. Historiquement, les communautés de cette région vivaient dans des villages permanents ou des établissements d'été. Le chef Mesqua Ukee ou Misquakie (appelé William Yellowhead en anglais) a combattu avec les Britanniques pendant la guerre de 1812. La région de Muskoka porte son nom. Les Mohawks de la Première Nation Wahta ont été déplacés du Québec vers cette région en 1881 à la suite d'un conflit avec l'Église catholique.
Le premier établissement permanent dans les Muskokas s'est appelé Obajewanung, actuellement Port Carling. Dans les 20 ans qui ont suivi la signature du Traité Robinson-Huron, les membres de la communauté ont été transférés dans les réserves de la région. À l'époque plus contemporaine, les peuples autochtones sont souvent effacés ou invisibles dans les paysages de la « région des chalets » en Ontario, y compris dans les Muskokas. La région des chalets a changé la façon dont les peuples autochtones interagissent avec leurs territoires traditionnels et, à certains endroits, cela a mené à des relations tendues.
Pour plus d'informations générales sur l'île de Wasan, cliquez ici.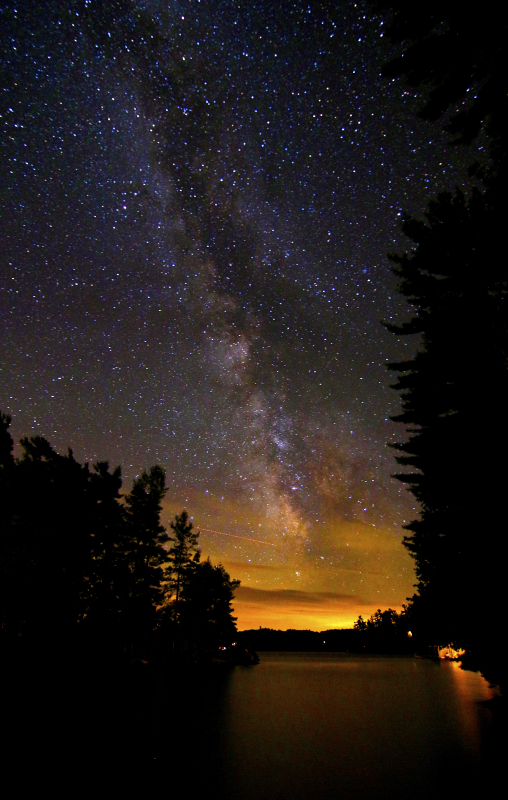 À Propos des Thèmes de Notre Retraite :
En mars 2023, 5 ans après le début de la Décennie internationale d'action sur l'eau :
2,1 milliards de personnes n'ont pas accès à des services d'eau potable gérés de manière sûre. (OMS/UNICEF 2017)
4,5 milliards de personnes n'ont pas accès à des services d'assainissement gérés de manière sûre. (OMS/UNICEF 2017)
Les pénuries d'eau affectent déjà quatre personnes sur 10. (OMS)
90 % de toutes les catastrophes naturelles sont liées à l'eau. (SIPC)
80 % des eaux usées reviennent dans l'écosystème sans être traitées ou réutilisées. (UNESCO 2017)
Dans le cadre de la Décennie d'action sur l'eau 2018-2028, la communauté mondiale s'engage à faire progresser le dossier de l'eau en dynamisant des programmes et des projets existants, et en inspirant des actions sur l'eau pour réaliser le Programme à l'horizon de 2030, en particulier l'ODD 6. Le plan du secrétaire général de l'ONU : la Décennie d'action sur l'eau 2018-2028 a pour ambition de réaliser des progrès dans tous les secteurs:
La Conférence des Nations Unies sur l'eau de 2023 a été le plus grand rassemblement d'États membres et de parties prenantes à débattre du thème de l'eau. La Conférence a incité des milliers de parties prenantes à organiser des centaines d'événements parallèles au siège de l'ONU, ainsi qu'au cours de la Semaine de l'eau à New York. La société civile, le secteur privé et les scientifiques ont livré un message retentissant en faveur d'un changement de paradigme et de l'importance de travailler ensemble pour assurer un avenir caractérisé par une gestion plus durable et socialement équilibrée de l'eau dans un environnement favorable et transformateur. La Conférence sur l'eau a marqué le point de départ d'un nouveau narratif sur le développement durable – un narratif fondé sur la compréhension, la revalorisation de l'eau et le développement de nouveaux modèles de coopération dans le domaine de l'eau.
Les principaux messages de la Conférence sont que le cycle mondial de l'eau est un bien commun mondial ; le droit humain à l'eau potable et à l'assainissement doit être accessible pour toutes les populations sans plus attendre et, plutôt que d'être une menace pour la vie et la santé, l'eau doit devenir un catalyseur pour la santé et le bien-être, assurant la nutrition et de l'énergie pour tous.
La plupart des engagements énoncés dans le Programme d'action pour l'eau ont été pris par la société civile, réaffirmant ainsi le rôle central que les acteurs non gouvernementaux doivent jouer dans la réalisation de l'ODD 6 et dans la transformation de notre planète pour assurer l'approvisionnement en eau de toute l'humanité. L'accent a été mis sur une action coopérative et inclusive par le biais de coalitions multipartites pour galvaniser les communautés locales, les peuples autochtones, les organisations de la société civile et les gouvernements aux niveaux local et national, ainsi que les organisations internationales. Des solutions locales, novatrices et abordables offrent la meilleure chance de résoudre les problèmes liés à l'eau. Les politiques locales, nationales et régionales qui intègrent l'eau et les questions connexes peuvent fournir l'environnement favorable nécessaire pour tirer parti des externalités positives et renforcer la coopération multilatérale pour un monde durable et pacifique. [Traduction libre]
– Résumé du Président de l'Assemblée générale en mars 2023
À Propos des Participant-e-s
Les participant-e-s seront sélectionnés à partir d'un bassin de candidat-e-s admissibles (voir les critères pour les PMO si vous postulez en tant que représentant-e d'une organisation) par le comité directeur de la retraite, après un processus de candidature ouvert.
Les frais liés à l'hébergement partagé, à la nourriture et au transport en classe économique seront couverts par le programme Activer le changement.
Les langues de travail de cette retraite sont l'anglais et le français.
Critères d'Admissibilité
Les candidat-e-s doivent avoir de l'expérience en matière de mobilisation en faveur des efforts mondiaux sur l'eau, l'environnement et les changements climatiques.

Les personnes ayant des expériences vécues diversifiées et des identités intersectionnelles sont encouragées à poser leur candidature.

Les jeunes (18 à 35 ans) et les représentant-e-s des nations autochtones qui travaillent localement ou à l'échelle mondiale sur les thèmes de la retraite dans le secteur de la coopération internationale et de l'aide humanitaire dans la région de l'Atlantique, en Ontario et au Québec sont également fortement encouragés à poser leur candidature.

Les participant-e-s doivent être en mesure de communiquer en français ou en anglais (ou les deux !)
Les Participant-e-s Sélectionnés Doivent Participer Activement aux Activités Suivantes:
un processus de planification participative virtuel (en ligne), incluant au moins un échange d'idées (les 10 et 19 juillet)
la retraite 2023 à Wasan (16 au 19 octobre)
des activités d'engagement public et de plaidoyer après la retraite (telles que lors des journées internationales pertinentes et pendant la Semaine du développement international 2024)
Date limite : La date limite pour soumettre une candidature est le lundi 26 juin 2023 à 10 h, heure de l'Est | 11 h, heure de l'Atlantique. Les candidat-e-s seront informés des résultats au cours de la semaine du 3 juillet 2023.
Si vous avez d'autres questions ou si vous avez besoin de plus d'informations, veuillez écrire à vlad@ocic.on.ca.