TAPESTrY 2030 EPISODE 5: Sustainability Comes from the Community: the Example of San Isidro, Peru
TAPESTRY 2030 Season 2
EPISODE 5: Sustainability Comes from the Community: the Example of San Isidro, Peru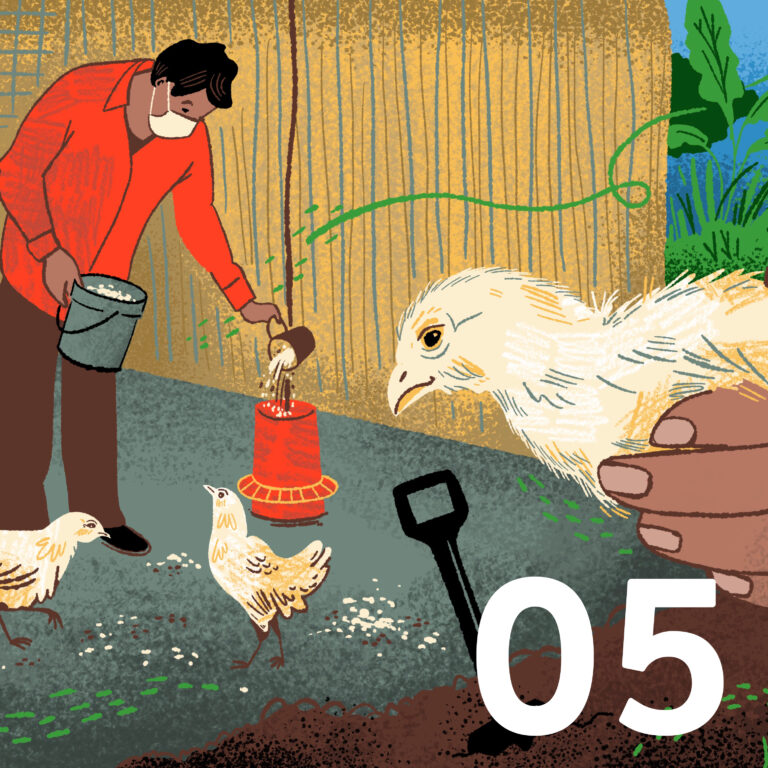 TAPESTY 2030 TRANSCRIPT – EPISODE 5
Episode 5 Transcript – ENGLISH 
Ruth: You are listening to "Tapestry 2030," a podcast series from the Ontario Council for International Cooperation that focuses on the future of international cooperation and global solidarity, and the partnerships needed for sustainable, gender-transformative development. I'm Ruth Taylor, Operations Coordinator of Heart-Links, a non-profit organization based in London, Ontario, that works in partnership with six organizations in Peru to support their initiatives in education, leadership, health, and gender equity, among others. Today I am pleased to host this episode on localization and how this concept has been applied in a sustainable development project Heart-Links supports in the rural community of San Isidro in northern Peru. 
Maria: Localization is important because organizations listen to our problems, valuing what we know and respecting our proposals to improve our lives and those of our family, the community, and also for teaching us to look at the things we have and that we can use them to improve our lives.
Savina: It's important because it helps us. They take up our ideas, the kinds of needs we have and they also care about us. That's what we want. We need them to support us as the farmers we are.
Ana: I think localization allows us to involve families in the solution of their own problems, in the solution of their needs as a community. It allows us to identify the community's experience, but also the resources they have that can be used in an equitable and just way, always respecting the environment and respecting people's rights.
Ruth: Today we are joined by Vitalina Flores, coordinator of Centro Esperanza, based in the city of Chiclayo, Peru, and Ana Mio, from the same organization, who coordinates the project we will be discussing today. Also present are María Suclupe and Savina Vargas, members of ECODAE, an agricultural association from San Isidro, a rural community about 35 kilometres from Chiclayo. 
Vitalina: I'm Vitalina Florez. I work at Centro Esperanza. I have a daughter, I'm a sociologist by profession and I'm accompanying this project in San Isidro with the women who are participating in this recording today.
Maria: Good morning. My name is Maria Suclupe. I'm a mother. I live in the community of San Isidro. I'm the treasurer of the organization San Isidro Community Venture for the Development of Sustainable Agriculture (ECODAE).
Ana: My name is Ana. Ana Mío Collazos. I'm a sociologist and community promoter. At the moment, I'm supporting, well, accompanying the families of the community in the work they're doing.
Savina: I'm Savina Vargas. I'm a mother. I have four children. I've come from San Isidro to be at this recording with Ms. Vitalina. Thank you.
Ruth: With Centro Esperanza's accompaniment and financial support from Heart-Links, for the past three years the members of ECODAE have been carrying out a development project aimed at improving living conditions in San Isidro and turn it into a model agricultural community. 
María: We're a rural community, far from the city, a bit abandoned by the authorities, made up of farmers who have small plots of land and others who don't have any. We believe in God and we want to work and improve. 
Savina: San Isidro is a rural area. We suffer like this because of the rains, the rain that comes seasonally so we can plant. Sometimes we lose our crops. That's what worries us as farmers. Because when we plant, sometimes the water doesn't come, we can't irrigate our crops. We go out, we lose our crops, we spend money and we can't get it back. Because of this, sometimes we stop planting because sometimes there's not enough rain.
María: During El Niño, 40 families were affected. We had to go to higher ground to ask for help and we set up the Jesús Es Mi Camino shelter with other affected communities. There we organized ourselves into a committee to manage food, water, shelter and to be able to survive, because our small plots of land, animals and houses were washed away by the water because the roads were in such bad shape. Aid didn't reach our area. It only reached families in urban areas. That's where we met Centro Esperanza. 
Ruth: Centro Esperanza is a non-governmental organization founded in 1997 by Catholic communities of women. Motivated by faith and a preferential option for the poor, the Centre works in urban and rural communities in the department of Lambayeque, focusing on human rights and democracy; gender equality; interculturality; and the environment. The Centre develops its programs alongside the participants, advocating with them and seeking to improve public policies in these focus areas.
Maria: We explained our situation to them and when we returned home, Centro Esperanza came. They came and donated food and helped us to organize so we could ask for assistance from state and private institutions. In 2017 and 2018, Centro Esperanza obtained small grants for food, for raising guinea pigs using the pasture and for preparing organic fertilizer. Our organization was strengthened through workshops on personal development and human rights.
Vitalina: In 2017, as Centro Esperanza, we started to seek aid for the shelters that were helping and sheltering families affected by El Niño. In Peru, the most affected area was the north, and therefore, in Lambayeque, the northern districts were also the most affected. So when we were in Illimo, we supported the families with food, septic toilets, health campaigns, mosquito control. We got to know San Isidro, the families of San Isidro, because they had left their homes to go to a shelter on higher ground, because they're from a rural area, because they couldn't get help, because the water had washed everything away. We talked to them and were very interested in their initiatives, their will to survive, their desire to keep going despite everything they had lived through. You could see in them the hope that they could start again because they thanked God that they were all alive. They only said they had lost their possessions. 
Ana: I remember the testimonies of the families when they told me about everything they'd gone through during El Niño, everything they'd lost, but even so, they still had all that spirit and that disposition to move forward. For me, the truth is that I see the community of San Isidro as a clear example of a resilient community because of the capacity to move forward despite the situation they went through and not only at that time, but also in this second situation with the pandemic. So, for me, the community of San Isidro is a resilient community, because despite the fact that they lost so many things, their animals, they even lost their jobs, they've been able to overcome and get very positive results.
Vitalina: We started to work there, strengthening their organization, talking to them, coordinating, asking them how they planned to get ahead, gathering their opinions, helping them to prioritize which of the needs they presented could be solved. And so it was that after two years of accompanying them to strengthen their organization, we also started a small micro-business of guinea pigs to take advantage of the pasture that was available at the time. They prepared organic fertilizers. They looked at what they had. I remember, they took stock at that time of everything they had—their small plots of land, the knowledge, the wells that had been abandoned but needed cleaning, tests to see if the water was drinkable. In short, they made a list of the resources they had and, of course, the steering committee, the Board of Directors, raised the issue of how much they were committed to supporting these activities and working together on this project in order to move forward. Throughout this process, we felt it was worthwhile to support this community of San Isidro, so we decided to ask for support from Heart-Links, with whom we've coordinated other projects for many years. 
Ruth: The project that was presented to Heart-Links sought on the one hand to train ECODAE members in sustainable agricultural practices, and on the other hand, to strengthen their organization. In both aspects, its design was based on the priorities and proposals of the community itself.
Vitalina: When we went to San Isidro, we talked to its board of directors in 2018. And we put the idea to them, after they had already had an assembly and established their priorities of what they wanted to do, what problems they had and how they wanted to solve them. To do so, they had taken a look at everything they had. I also remember they analyzed, how farmers themselves were polluting their environment and how they were polluting their soil when they burned agricultural waste. So they said, there was a man who had knowledge of agricultural techniques. Unfortunately, he is no longer here today. But he made us see that the corn stalk, the panca, could be used to prepare animal feed. Others said, "We have a well and we can rescue it to sow a plot of land." Another said, "I offer the land." That's how they came up with the idea they wanted to carry out. It was sustainable farming from the beginning.
Ana: There are a few things that have come from the community itself, that perhaps were not contemplated in the project, but that they wanted to do. For example, the recent case of making biogas from animal waste. They asked for it. It seems to me that they sometimes use the Internet to look for information about these things. So when we got to the community, they already had these ideas and they would say to us, "Look, miss, we'd be interested in learning about what we've seen." So, based on those ideas that they'd given us, we'd also start looking for organizations we could work with. Or volunteers. I remember that, for the biogas, we worked with some young environmental engineering volunteers who were able to teach them both theoretically and practically. How to make a homemade biodigester. And now we have noticed that this small experiment we made in one of the houses has worked, but we are still monitoring it. Something I can also mention is the production of biol, which although it's true the project contemplated an organic fertilizer, it was perhaps something new for the families to know they could also get biol from the same biodigester, as a nutrient for their land. So that's how they gave the biodigester double significance. Using the gas for cooking, but at the same time getting biol to fertilize their land.
Maria: We're very happy with everything we're achieving with the project, which is helping us to improve our lives and those of our families, and has given us the opportunity to work. And now we know how to make organic fertilizer. We've learned how to prepare food for our… We have livestock and with the same produce, like corn, the panquita, as they call it, is leftover. We just remove the part we eat and the rest is burnt. And since we now have the mill, we've learned how to prepare feed for our livestock. We've also learned techniques for raising and feeding laying hens and how to improve relationships with our family and neighbours as well.
Ruth: Already in the first year of the project, community members saw many positive results, but with the advent of the COVID-19 pandemic and the nationwide quarantine, they soon faced another crisis.
Vitalina: The families, by order of the government, had to stay in their homes. They couldn't go out to work. They were in that situation for several months. And there came a time when all their resources had been used up. Everything they had—their small animals, their food—they were all gone. The food situation was critical. That's what was happening in San Isidro, but it was also happening in the whole department, in the northern region of the country. We were in a very, very, very difficult situation in terms of food, alarming, I would say, because in the city people were knocking on our door every five minutes asking for food. Heart-Links no doubt heard about it on the news and at a certain point said, "We know the situation you are going through in terms of food shortages. Do you want to use the remaining money to buy food for the families?" We, at Centro Esperanza, most of us said we should buy, we should spend all of it on food, given the situation. And Ana and I told the families the good news about Heart-Links' decision. But we told them they should make the decision whether to spend it all or leave a balance. So they coordinated. And after two or three days the answer was to leave a balance for when the COVID levels went down. Because if they spent everything, if they used up everything they had and spent that small fund they still had, they were going to be left with nothing, absolutely nothing. So we respected their decision and there was a balance. And now, with that balance, from October onwards we started to go out again. And we coordinated to renew our visits. They decided they were going to use that balance for laying hens to start a micro-business and generate a source of employment.
Savina: We've learned how to prepare feed for our animals. We've learned how to make the drinking troughs, the feeding troughs and we've also learned how to vaccinate them and how to feed them according to their stages of growth. And that has improved our husbandry. The training we have been given has been very helpful and day by day we're improving in our breeding. Now the families that started with five laying hens have approximately 30 laying hens per family. We have 90 chicks. Eggs that we eat ourselves and also sell when there are enough. And our family's situation has improved and we are learning how to improve our breeding. It also helps us to have better livelihoods and to be able to feed our children better. It's important income for all our families.
Ruth: Participation by women in ECODAE's leadership and training for the entire community in gender equality and women's rights were goals from the start. But the women of San Isidro asked for further workshops to ensure they could participate fully in all aspects of community life.
Ana: At the beginning they were afraid to share what they thought with other people, especially seeing that there were also men in the organization and the men always spoke up. So the women asked for these workshops to help them not only to communicate their ideas better, but to participate in a more continuous and more active way, and above all, to be able to make decisions within their group.
Savina: The project is very important for the women in our organization because it's helping us to lose our fears. And it's also helping us to move forward and to have confidence in ourselves in the work we do. We now participate in the Board of Directors. We are able to make decisions in ECODAE. We're also learning that chores, housework and raising animals is work that should be recognised by the spouse and also by the family and the community. 
Maria: Some men are also learning the chores that we women do in the home. And it's not a big job or a big responsibility, because it can be shared with them. And well, for me and my family, my husband has also joined in raising animals. Because before, they thought that men only went out to work and we took care of the house and the animals. Not anymore. Even my children, my teenage children have also got involved in the work we have learned. Sometimes we have a small plot of land that we borrow and they already know manure from the animals that we raise. We have learned how to use it to make organic fertilizer. We know there's a lot to improve and unlearn. But we've begun and I hope we'll continue like this and improve even more.
Now we're realizing our dream of having a source of income for our families, a dream that when we began seemed impossible. But today it's coming true. We also want other women to learn what we've learned from the project and to improve their knowledge of small animal husbandry and to participate in decision-making at home and in the community. That they understand that women should be respected and valued. That household chores, animal husbandry and farm work should be recognized and valued as work we women do that contributes to the household.
Vitalina: That some men are already recognising that they can also do some housework and it doesn't take anything away from their manhood. I'm very happy about that. But also their gestures of solidarity with others, of sharing what little they have with members of other families who are not involved in the project. So, better treatment within the family, better relationships with their children, respecting them and respecting themselves. These are valuable outcomes this project is giving us.
Ana: There are also noticeable changes in people's leadership. They've started to negotiate for what they need with some institutions, with the municipality of their district. And they've started to plan their assemblies by themselves. When they need to talk or to discuss something important, they schedule their own meetings. I remember them saying, "Look, Miss, we're going to meet with the community today to reach an agreement." So democracy, participation, has begun to be practised. They've become more involved in their duties, but also in seeing what needs they have as a community that they could meet.
Ruth: The desire to share experiences and learnings with other women and other communities is perhaps what best shows the extent to which San Isidro is the protagonist of this story.
Maria: Our organization ECODAE is motivated and eager to continue progressing. Today we see our organization being recognised by other communities or by the municipality. Sometimes we don't get a good response, but that doesn't stop us from continuing to look for ways to keep working. Our work continues and other people have come by sometimes, we've even helped them organize. We've also taught them how to make fertilizer. Students, too. Some students also came to ask us to teach them how to prepare compost, and we didn't refuse. Because just as we've learned, we in turn teach our neighbours. We've also learned to show solidarity. We've started by donating our chicks to low-income families, from the ones we take out of the incubator and we have chicks. We have donated to some families to teach others to show solidarity and to share what little we have. It teaches us to be better people and grow closer to the community so that maybe they can also join us and learn and we can move forward. Not everything is impossible. It can be done. We can learn, keep going, get ahead. And we women can, too. 
Ana: They were also able to share with another organization that was just starting to grow passion fruit and asked them to show them how to prepare this organic fertilizer. What I really like about the families is they don't keep what they learn to themselves. They share it with their children, who are now also learning from everything that's being done.
Vitalina: And as the community president at the time, Mr. José, said, to be a reference for other communities, for other families in the town. That with effort, with dedication, with love, with good treatment between men and women, with a good relationship in the family, yes, you can get ahead.
I feel that as we move forward, we are discovering what else we can do to make the project sustainable, so that it becomes the dream that the families of San Isidro want it to be, an example for other communities. But what does this mean? It means this project has to be sustainable. We've realized we have to involve young people in this process, in this case the adolescents. We've already started with some of them, but during this phase, this new phase or third phase of the project, we're going to place a lot of emphasis on working with adolescents, because we understand that in the end they are the ones who, when the dads travel for work because there is no work for them in the area, they have to go elsewhere, they are the ones who will be left to look after their small farms. And being young, they also have their dreams.
Savina: The 21 families, we are very grateful to this project that has supported all our families in raising laying hens. Thanks to you today we are learning how to manage our enterprise. And thank you very much to Heart-Links and Centro Esperanza and all its members, thank you very much for all the support you give us and for taking care of our needs. Many greetings from our whole organization to each of your members, and God bless you.
María: I'd like to thank Centro Esperanza and Heart-Links for the teachings and support they have given us, to all the members of ECODAE and to me personally. And thank you to each of the people who have contributed to making our dreams come true.
Vitalina: This project is an experience that has taught us a lot as an institution. We have given, but we have also learned a lot. For example, one lesson that they have taught us, I would say, is that even in such difficult circumstances as they were going through with regard to food, in such a complicated situation for them they had the wisdom to take part of the project's remaining funds and leave part, putting it aside for tomorrow. I think that in farming culture, planning for tomorrow is very deeply rooted. So it is a very important lesson that we have received as Centro Esperanza and we also value and learn a lot from them, from each assembly, from the meetings we have with these families.
We have a lot of respect for the culture of the groups we work with, we value their knowledge, their wisdom. And for us the most important thing really is the people. That's why we thank Heart-Links, who also trusted us during this time and has supported us in this dream that one day the lives of these families who are often abandoned by the state will improve. 
Ruth: One of the words we heard several times during this episode was "dreams." We also heard our guests say in different ways, "Yes, we can." Perhaps that's another reason localization matters. It's a firm foundation on which to build our dreams. Yes, we can. Many thanks to Savina, Maria, Ana and Vitalina for joining us today. Thanks also to our listeners. 
You can learn more about Heart-Links and Centro Esperanza by visiting www.heart-links.org or following us on social media. Make sure to tune into the next episode of Tapestry 2030 as we continue to share stories from our OCIC membership.
The Ontario Council for International Cooperation is an expanding community of organizations and individuals working for global social justice, human dignity and participation for all. Join us! Visit ocic.on.ca for more information.